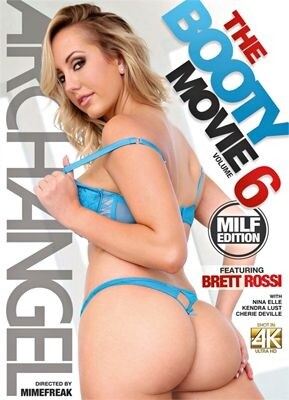 It's horny, high-speed humping, interracial style (care of ArchAngel Productions and Girlfriends Films), with the fellas pumping some of the finest white MILFs in the biz.
Cherie DeVille, 39, and the only older babe who does anal in this movie (bless her), starts the gonzo off with a bang, indeed. DeVille looks better than ever, with a tight, curvy body that easily rivals any 18-year-old or young female slit out there. A marvelous blowjob artiste, she gags on Rico Strong's schlong with gusto (yeah, bitch!). And check out her amazing ass cheeks and delicious tits. Umphh! I love it when Cherie tells Rico, "You can choose whichever hole you want," and, "Everything you want is yours," when she's bent over. Rico jams his black log straight up her sweet anus and the slut is, literally, drooling! Love ya, Cher! She doesn't mind (or cheat on!) ATMs, either, licking that soiled sword totally clean. Rico also doesn't (thank heavens!) waste her twat, slamming it good and proper throughout this scorcher of an opening (in more ways than one!). Anal cowgirl is absolutely worth a look, as well, like every position — be it in the crapper or snapper! — with dirty, divine DeVille.
Next, at 5' 5", little platinum blonde Nina Elle, 37, gets seriously skewered by Nat Turnher. I love her made-up eyes (lotsa marvelous mascara), and it's a pleasure witnessing her nearly puke on penis, with plenty o' dripping saliva and gnarly noises. Great ass-jiggling action during cowgirl, too, though doggie a la Elle should also not be missed. Such a big and juicy booty on nasty Nina (hey, they don't call it the "Booty Movie" for nothin'!).
And (what I've been waiting for here) the amazing Kendra Lust, 39, is next, with her perfect MILF's body and gorgeous, ever-fuckable face. Lucky bastard Ricky Johnson gets this brunette bombshell all to himself. She's another amazing cock-choker, getting lotsa spit on that shaft. Like DeVille, Lust also doesn't offer one bad position; though my faves are … all of 'em! But(t) seriously, cowgirl is zipper-bursting stuff, while doggie will make you immediately bust yer nut. The bitch just has the most incredibly shapely, all-around luscious pair o' ass cheeks! Love those brilliantly augmented boobies, too! And she doesn't mind getting a little rough with Ricky, who, at one perverted point, yanks on her long hair whilst slamming her fine behind. Just wish Kendra gave up her tasty anus here. Oh, well — next slime around.
Lastly, we have pretty, endlessly fuckable Brett Rossi, 28, passionately taking on two lovahs in the forms of Prince Yahshua and the hugely hung Isiah Maxwell. Surprisingly, Rossi doesn't mind kissing, and she doesn't mind rolfing on big, black greasy cocks, either. There's no DP here, but Rossi keeps her other orifices (as in cakehole and vadge) busy throughout, like, for example, when riding Isiah reverse-cowgirl style and simultaneously sucking on Yahshua's veiny cudgel. And don't miss her riding Maxwell's monster cowgirl style, her butt cheeks hypnotically vibrating like jello. It's fab jabbin', folks!
Listen, if you like older women who look terrific and fuck like there's no tomorrow, and adore taking a huge black dick up the cunt or down the gullet — and way up the ol' shit-er-ooni, in the awesome case of heroic Cherie DeVille! — then you ab-so-fucking-lutely need this movie.
Synopsis:
The Booty Movie returns with blazin hot MILFs taking on the biggest black dicks! These ladies have got the experience and the butts to satisfy even the hardest of BBCs!