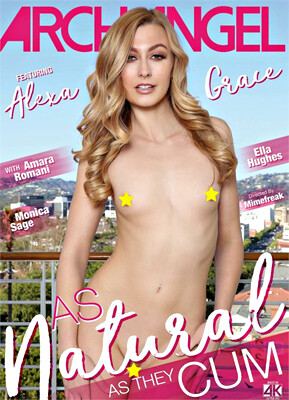 Hard-hitting nastiness featuring some tasty twats, a little anal (two torrid turns at turdhole tunneling, in fact!), and a bit o' cunt-gushing from the randy ranks, all equaling plenty of arousing stuff that's ab-so-fucking-lutely worth beating yer meat to.
Ream-worthy redhead Ella Hughes is an excellent start to this group of four dynamic gonzos, with Ella getting her pretty little self potently pounded by Bill Bailey. After a little masturbation a la dildo, fair-skinned and fine Ella gives BB a BJ with some laudable attempts at deepthroating the prick's prick. Cowgirl gives us an amazing view of Hughes' similarly amazing buttcheeks; ditto for both spoon and doggie, with Bailey getting some fantastic booty gyrating action goin' on during the latter position — and he doggie drills her twice, even! Good job, Billy boy!
Next, the attractive, tall and rangy Alexa Grace gets ground down good 'n' proper by the Spanish sword of Ramon Nomar. Some marvelous deepthroat action begins the tryst (wow! — Alexa has to be a foot taller than Ramon! — don't you just adore these tall drinks o' female water? — umppph!), followed by some choice doggie work, and some equally sizzling cowgirl humping/squatting, leading to a variety of pole-in-hole positions and then (splat! splat! splat!) a fine cum-cocooning of Grace's tits (though Ramon did try for her mouth … gotta work on that aim, Ramon son).
In suck-and-fuck scene three, juicy brunette Monica Sage takes on Jimmy Deen sausage for some rowdy tonsil and twat torpedoing. I love the saliva Monica hacks up when Deen repeatedly jams his joint down her gullet. He chokes her a wee bit with a belt during missionary, then turns her over for some cornholing a la doggie, ATMin', reverse-cowgirl anal (with more saliva dripping all over her chin and delicious tits), more doggie anal (with gaping!), some butt spanking, missionary anal which includes jackhammering, more ass-to-mouth and saliva dripping, spoon sliding where Deeno goes back and forth between cunt and crapper, and finally a load o' man-paste smack-bang into her cake hole. Definitely one of the movie's best salami-slam scenes!
Finally, Amara Romani takes it up the shit from Markus Dupree in a truly scorcher of a finale. After some quick deepthroating from Romani, Markus bends the hot-looking brunette over and, going straight for the A, butt-bangs her, with some eye-opening gapes, followed by some finger-fucking which leads to spray coming forth from Romani's honey hole (a lot, actually!), a bit o' missionary assfucking, then cowgirl anal where Romani really works that moneymaker; some man-ass eating (brave girl!), reverse-cowgirl anal (in which Dupree turns Amari into a lil' pretzel), and (without even touching her twat the entire time) a crapper creampie, with Amari dripping it out of her poop pit and onto the floor, where she dutifully eats up the still-steaming splooge. Grand whore!
"As Natural As They Cum" is a great gonzo pick, generating volumes of heat thanks to the saucy sluts (especially Monica and Amari!) director MimeFreak has shrewdly chosen here. Totally worth getting!
Synopsis:
No fakies here. These beauties were all blessed with perfect curves. Watch as they put their finest assets to work, sucking and fucking their way to a warm, creamy reward.