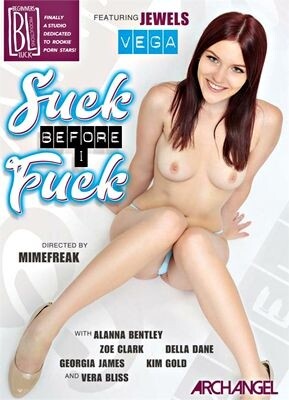 These girls are really blowin' it. No, that's a good thing here, as a lucky seven batch o' broads (that's right, seven of 'em!) suck cock from the start of this movie to the cum-clusion. Sure, it's hardly a new concept. Actually, it very much reminds me of the "Cocksmokers" series from Extreme Associates back towards the turn of the new century, wherein they simply filmed the sluts shucking down rods and nuts in the very office rooms of the production company itself. Same thing here, with the ladies first discussing why they love slurpin' down sausage (in brief interviews), before (better still) they soon bloody well do it! And there's some very fine female suck-off specimens here. So, hey, let's get to it, shall we?...
Alanna Bentley might not be wearing much makeup, but for those viewers who like a more traditional mouth-massage, she's for you, not getting into too much choking and gagging; with one of her better oral traits being her talented use of her tongue as she bobs on knob.
Della Dane — and her wild punk haircut — is far more animated, delivering a very 21st century BJ: deepthroating that link, frequently hacking on it, making foul and filthy wet/choking noises, and, at times, looking as if she's gonna (good, girl!) actually blow the chunks. Definitely one of the movie's highlights. Don't miss her upside-down sucking expertise, either.
Blonde pixie Zoe Clark is paired with a fairly long prick, and she works it well, going all the way down to the bone, coughing, and really getting in the full seven or eight inches. She's another one who excels in terms of getting her face fucked upside-down. Yep, her blow-a-thon's another shiny moment in the gonzo.
Georgia James is another blonde, a bit more voluptuous than Zoe, who also goes deep on dick, her eyes turning red as her nose butts up against a pair o' sweaty balls, while her hungry, semenly bottomless mouth and undoubtedly silky throat are filled to the max with man-meat. And, boy, does she get that wrinkled sax good and wet with saliva. Check out, too, how loads o' that saliva slobber down her cheeks and into her eyes. Whew!
One of my favorites, though, is brunette Kim Gold who brags to director MimeFreak's camera about sucking her first cock at age 12 (dayim, girl!), and the slut can't even help from playing with her cunt through her undies as she anticipates goin' to bat; and when she finally does, yeowza, it's a vision to behold, with Kim goin' way deep, suckin' balls, moaning as if she's in some kinda heaven, and just being as whorishly creative as she can with her mouth and tongue. Plenty of eye contact with this suckette, too. She even sits on the lucky sob's face for some spontaneous 69in' — both on a sofa and upside-down as the guy hoists her up off the ground. Oodles upon oodles of spit are produced, by the way, when she's upon her back atop the sofa, head over the edge, upside-down and gaggin' like there's no tomorrow. Love this dirty bitch!
Blonde Vera Bliss is a bit nasally and mousy, but she's still kinda cute, knowing how to use her gob fairly well (and I can tell she's got one smokin' little ass attached to her, too, so I absolutely look forward to seeing that little moneyshaker bent over and salami-slammed in another XXX ditty). I also dig how she looks directly into the camera as she's getting trouser-weasel attacked upside-down.
And lastly we have redheaded beauty (no wonder she graces the DVD box cover) Jewels Vega, who chows down on perhaps the biggest dick (thick, long, gnarly-lookin') in the movie, partaking in some 69, goin' deep when she can, takin' her chances upside-down, and (for my taste) using a bit too much wrist. Still, Jewels is most definitely a keeper.
There's certainly enough variety of sucking amongst these seven tonsil-ambushed tarts to keep things interesting, with high points especially goin' to Della, Zoe and (my fave) Kim, three trollops who really (again, a good thing!) suck big league.
Synopsis:
These girls are really blowin' it. No, that's a good thing here, as a lucky seven batch o' broads (that's right, seven of 'em!) suck cock from the start of this movie to the cum-clusion. Sure, it's hardly a new concept.