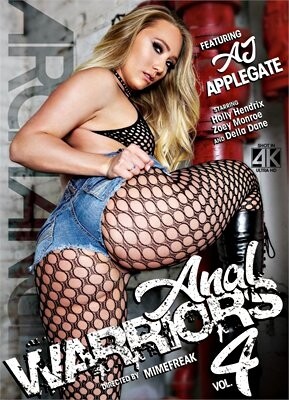 Our quartet of buttfuck bitches totally rock as true, blue, takin'-it-up-the-poo-poo anal whore-iors in this excellent MimeFreak-directed title.
You know there's gonna be nastiness whenever you see Zoey Monroe's name in a gonzo, and in this installment of AW, she's no X-ception to the raunch rule, with our cute-but-filthy gal taking on the big black behemoth attached to Jon Jon, with reverse-cowgirl anal really showing off Monroe's ass-fuck skills, while I liked it when Jon Jon picks her up during mish and bangs her dripping-wet cunt while standing; and it's also fun when she's taking it deep up the shiterola during doggie and JJ just busts a nut all over her lil' crap cave. Yeah!
Now, while Della Dane might not be a classical beauty, she knows how to fuck and suck, giving Rico Strong a run for his money. Dane's very compliant when it comes to opening up her tonsils and nether holes, but my favorite position with Dane is spoon anal, where we get a magnificent view of her small but scrumptious body, and, yes, that juicy, pear-shaped ass o' hers, as well; while it's fun seeing her looking as if she's in some kinda heaven during doggie anal. Please note, too, how dirty Della relishes her ATMs. The lady's definitely a tramp! Yeah!
Up next is tart Holly Hendrix who sucks and fucks the cock attached to Rico Strong. Under 5-feet in height, petite Holly deepthroats a prick until it's cocooned with spit and she's about to blow the chunks. I don't know how such a little thing like her can take a torpedo up her turd tunnel as deep as she does. Amazing! Her ass cheeks themselves look awesome, particularly in the anal-spoon position. But let's not also forget her impressive pole positioning during cowgirl anal and vadge. Whew! It's otherworldly watching that delicious butt bounce on boner so animatedly. Reek, actually, gets off during doggie vadge, blowing his load all over Holly's heinie.
Lastly, we have a fan(ny) favorite in the way of legendary ass-cheek-a-boo babe A. J. Applegate, here letting Prince Yahshua rigorously ream all of her hot 'n' steamy holes. Applegate looks oh so fetching in a black fishnet outfit, a big hole cut out for her equally big ass, which she soon enough bends over for a good ass-fucking, after, that is, she lets the Prince furiously fuck her pretty face. I love, too, how Applegate doesn't grimace away from ATMs, licking that streaked Yahshua slug clean after every anal position, my favorite being (of course, with a booty queen like A.J.) doggie, of which there is (thank goodness!) a lot of black frankfurter footage.
Yep, while A.J. Applegate might be the draw here (she looks incredible on the DVD box cover), and she's totally one truly horny vision to behold, I think Zoey and Della definitely performed with arousing nastiness and Holly Hendrix X-celled in the blowjob/cunt-pounding/anal departments. Good dirty work, everyone!
Synopsis:
Hard fucking up the ass! The stars with the best anal skills are all here!