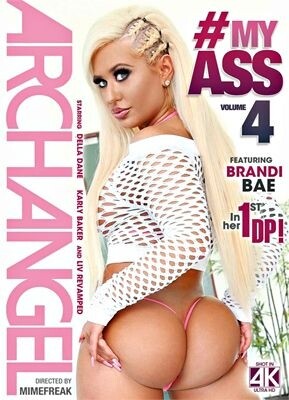 Juicy-assed vixens take it deep up (and/or down, depending on your perv-spective) the anus in this raging rectal romp from the decadent lens of MimeFreak.
And speaking of juicy asses … we begin with a dilly in the form of Della Dane, sporting her punkette haircut and colorful tats, while giving one of the raunchiest BJs and buttfucks in the entire movie — and, yes, what a succulent pooper on this anal queen. Della, by the way, doesn't fool around when it comes to foolin' around (if you're still with me). She means business. That is, fuck her silly — or else! And in every hole possible. Doggie style anal is out of this world with the insatiable hussy. She has such a meaty fucking behind, too! Love the gapes, as well. She does 'em so booty-fully! Russian-root wagger Markus Dupree is the lucky fuck who gets to have his way with this filthy wench. Even mish is awesome with Dane. Check out those meaty thighs and that tight stomach. Della also digs ATMs, lovin' every dirty inch of that crap-soaked, still-steamin' sword. Standing doggie is no less horny with this terrific tramp, while reverse cowgirl anal gives you a marvy view of her beefy (yum!) pussy, and — dayim! — does this bitch (who even eats Dupree farts!) get into her schtuping or what? And, for the raunch record, cowgirl (with that big ass jigglin' every which way) is just as amazing as doggie.
Yet one of the true foxes in MimeFreak's gonzo is our second sphincter slut, Liv Revamped (love the name), who's in that much-sought-after rank of porn starlet that's just so innocent looking, you can't believe she's in such a dirty biz; but she is! — so enjoy her while you can! Here she's paired up with Mr. Pete. Aside from a terrif no-hands BJ, Liv is a delight to view during doggie. Love the garters, by the way, which beautifully accentuate her choice butt cheeks. She doesn't shy away from ATMs, either, making her all the more fabulously freaky. Love it, too, when she sticks a dildo up her ass while riding Petey cowgirl with her cunt, before she yanks out that friggin' prop and sticks the real thing up/down there, after which she licks that stinky love-stick clean with her hungry mouth. And, boy, does Pete spray-paint her cute mug. Wowie!
Karley Baker is another succulent slut, this time a brunette with a killer ass and small tits with big nipples who gets the buttfuck treatment good and proper from Chris Strokes. He makes her start off by having her big-lipped mouth go down to the base of his boner, before she then rides her ass — and, later, cunt — on his cock cowgirl style. Whoosh! Yet another amazing pair o' booty cheeks. She loves bouncing her bunghole on his bat during reverse cowgirl; and, by the way, Strokes' return to doggie anal will not prompt any protests in the critics department, lemme tell ya! Even while he's doggy pumping her pussy, Chrissy-boy sticks a long green dildo up her culo and makes her continually clean it off with her curious tongue. Spoon anal truly kicks ass, letting us have a wonderful view of Baker's primo butt and her prize-winning puffy pussy and equally stand-out nipples. And Chris just can't help but go back to doggie-anal-yzing her (don't blame him!), during which he creampies the smokin' babe's crapper. Love this young fuckin' broad! She's a hard (hard-on) worker and, thus, a keeper — fer sure!
And we end with an X-plosion, indeed, with DVD cover vixen Brandi Bae performing her first-ever DP. This bitch is truly porn personified: bleached blonde, with big luscious boobs, delectably tanned/hard body, head-givin' lips, and one deeply marshmallowy butt. Umphh! Lucky bastards John Strong and James Deen get to double-prong the whore. She starts off with a wild double-suck, gagging so deep, her chest and stomach are soon completely slick with spit. Awesome! She then squats her cunt down upon Deen dick while still sucking Strong stick. Strong then does her mish while she continues to jam Jimmy-joint into her cake hole.
Doggie is next; and with a protuberant ass like Brandi's, you'll pop soon enough, even before they hit her shit, which is just around the crap corner. Deen, that is, shortly anal assaults her missionary, followed by Strong taking a crack at it, with the boys taking turns over and over again; her butt cheeks getting wetter and wetter with sweat. Eventually, the lads move to a doggie DP, which totally rocks, her bronze butt cakes revolving around like jelly. She loves her own ATMs, by the way! Reverse-cowgirl DP is similarly salacious, giving us a better view of Brandi's oh-so-whorish expressions whilst getting heavily porked. Spoon anal is similarly grand, with both bastards indulging in this eye-opening position; whilst they even DP her in that same spoon stroke-worthy stance, though it's a bit too short for my perverted taste. And the dudes eventually coat our ravenous butt-slut's tongue with tons o' boy batter. Fanny-fucking-tastic!
Simple, in your face, and hard-hitting — with sexy/dirty-as-fuck bitches (and one downright gorgeous specimen in the case of Liv Revamped!) — "#MyAss 4" is just what the doctor ordered. Get it.
Synopsis:
Juicy-assed vixens take it deep up the anus in this raging rectal romp from the decadent lens of MimeFreak.