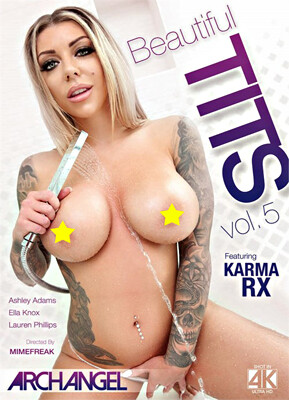 The four pairs of tits in this ArchAngel-produced/MimeFreak-directed gonzo are most certainly boner-inducing, especially those scenes featuring all-natural sizzler Ella Knox and similarly 100% sexpot Ashley Adams.
We start off with big-boobied Lauren Phillips, here getting heartily slammed by Spanish pudster Roman Nomar. Red-headed Phillips has a mousy kind of cuteness to her, parading what certainly a magnificent rack, along with a slender figure but, nonetheless, meaty behind. She's quite the chipper slut, happily getting brainiac Nomar's dick wet then letting him titty-fuck her, before she gives us various positions, with reverse-cowgirl certainly being the best to highlight her headlights, while cowgirl and doggie do wonders as far as showing off that marvelously gelatinous tushy.
Scene two has perhaps the best set of jugs in the entire movie, i.e., those big, long, luxurious boobies attached to exotic-looking Ella Knox, who gets passionately pumped here by Bill Bailey. I love how Ella Knox licks and sucks her own tits. Such a fucking turn-on. She's also a nasty deepthroater. Her large, ever-undulating breasts were meant for fucking — as well as sucking — and they hang like choice clusters of grapes (only ever-circulating and swaying ones) during doggie — and, yes, Ella also has a killer pair o' butt cheeks — as well as reverse-cowgirl, spoon and missionary (pretty much each and every angle!). I also love the little bit o' bush she sports about her undoubtedly succulent snatch. Additionally, I dig the way she kisses an all-American slob (but still a slob!) like Bailey. This bitch (Knox, not Bailey) rocks!
Now, while Ashley Adams might not be classically attractive, she does have an amazing body, which hard-hitting Russian dickster Markus Dupree most definitely puts through the paces in this super scorcher of a scene. Actually, Ashley gives the very best deepthroat BJ in her scene. And it's a pleasure to view her perfect body during missionary (see that meaty cunt glisten with moistness and watch those fantastic tits circulate). Reverse-cowgirl really lets you get a grand view of Ashley's perfectly delectable boobies. She even licks Dupree's dung ditch (yechhhh!), while he additionally gets her to squirt a wee bit. It's a vision, also, to see him really rough Ash up during doggie, smacking those great big ass cakes, before switching her over to mish and truly jackhammering her oh so hard and deep. Check out, too, the way he just erupts Russian dressing all over her mug. Wow!
Lastly, we have tattooed, big-chested Karma Rx getting heatedly porked by none other than Mr. Wonderful himself, James Deen. Karma submits a pretty gosh darn good suck-off to Jimbo, before he fucks her tits, slams the panting slut mish style, then spoon, reverse-cowgirl and (finally!) doggie, with her sofa doggy session (as opposed to her doggy-on-the-floor segment) being truly excellent.
Big tit lovers will dig the bumps — on the front and backsides of these four ladies — spotlighted in this gonzo, especially the bodacious breasts and booties attached to Ms. Knox and Adams!
Synopsis:
See the best tits in porn right here! Solid racks on the hottest babes!