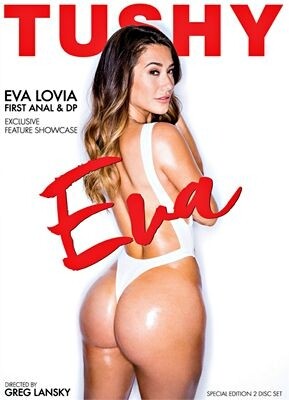 28-year-old Japanese/Spanish Eva Lovia — and her luscious, big butt cakes — plays a best-selling author showing her nympho nature in this Greg Lansky two-disc feature, with the delicious babe finally giving up her anus, while also delivering her first double penetration. It's 'bout time, sexy!
On disc one, we start off with Eva and Jean Val Jean (playing her sensitive, bespectacled boyfriend) with Eva giving a good BJ and presenting us with a fine view of her booty. Very sizzling when she sits her wonderfully fat ass on his face, too. Mama! We get some seriously wankable footage during cowgirl, with Eva's priceless ass wibbling and wobbling; during this same position Jean sticks his joint into her fresh anus (tadum! — she's an on-screen-anal virgin no more!). Some nice gapes ensue. Doggie, as you'd X-pect, is even better when she gets nailed in her butthole.
Then, to break out of her writer's block, Eva seeks "inspiration" from her best buddy Riley (as in Reid), with a threeway following 'tween Eva, Riley and Manuel Ferrara. A highlight is when Manuel puts the gals side-by-side and boffs 'em doggie style, then cornholes 'em in the same position. Both starlets offer some reverse-cowgirl anal, too, while I really dug the spoon anal skewerings.
Disc two likewise has some horny surprises. Eva picks Ricky Johnson up in a parking lot, brings him home and sucks/fucks his lucky prick, with Rick's BBC sinking slow and deep, fast and furious into her cunt and asshole. Spoon anal is way erotic, as well, with Ricky's unrelenting thrusts turning that delectable ass into pure pound cake. Yes!
Meanwhile, Kayden Kross plays a reporter who gets down with Eva, with some terrific pussy and ass sucking care of both vixens. And, the movie ends on a very fiery note, as Eva's first-ever on-screen (finally!) DP wildly unfolds; Lovia getting doubly porked via the veins of Val Jean and Christian Clay, be it up the cunt or ass. It's incredibly arousing to see this XXX beauty doing extreme sex, including some scorching reverse-cowgirl DPin' and anal gapes.
Lovia is a joy to view (and spew to) in this long-overdue feature, with the best scenes definitely being those wherein Eva gets slammed by swordsmen Manny Ferrara, Ricky Johnson and Christian Clay. Get it and whack with abandon to the best (so far) of big-bottomed, 100-percent scorching Eva.
Synopsis:
TUSHY.com is proud to present EVA, a landmark adult feature film from the mind of Greg Lansky. Eva Lovia plays a young but celebrated erotica author looking for inspiration for her next novel. Despite the success of her first book, Eva is consumed by the words of a particular critic in regards to her novel's authenticity. To rectify this, Eva decides to take matters into her own hands and sets out to experience thrilling sexual situations to validate the pages of her next work. Tossing aside the limitations of her comfort zone, Eva has a threesome with her best friend, sex with a total stranger, with it all culminating in a sexually awakening double penetration. Also featuring amazing supporting performances by Riley Reid and Kayden Kross, EVA takes TUSHY's dedication to the art of anal sex to unprecedented levels of quality and eroticism. Be a witness to this industry defining adult feature film event!