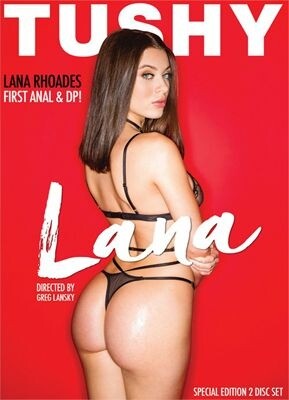 In this gripping (and cock-gripping!) feature, foxy 20-year-old Lana Rhoades (from Illinois, and of delicious Czech/Slovenian roots) stars as a struggling law student/intern who has trouble making ends meet, until her roommate, the luscious Penny Pax (28, from the Sunshine State), suggests that she follow her lead and whore herself out to 'select' (as in 'filthy' rich) male patrons willing to shell out as much as $3,000 for a boink session. Consequently, things do get rather steamy, to say the least, as we follow Lana's amorous adventures from trick to trick.
Her initial "transactional relationship" (er, sweet euphemism for sluttin' oneself out) is with Mr. Wonderful himself, Jean Valjean, who not only gets a super blowjob from the perfectly sculptured Rhoades, but also gets happily rimmed, with the monsieur soon slammin' clam, then reamin' rectum. And if it weren't for Valjean getting his ever-groping hands in the way of Lana's perfect ass (as in, constantly gripping them as he doggies her), this scene would have been perfect. But, hey, as is, it's still damn horny stuff.
Next up is a thoroughly fiery threesome 'tween Rhoades, Penny Pax and Manuel Ferrara, which is one of the movie's true showstoppers. Playing a high-rolling 'customer,' Manny takes on both broads, with plenty of rimming, anal, ATOGMs and female-to-female ass-sucking. Ferrara, by the way, smartly doesn't get his paws in the way when he's doggy-banging both Rhoades and Pax. And, gotta admit, one of my fave moments is when Ferrara is spoon-anal-izing Pax — her big, all-natural boobs hanging like ripe and succulent clusters of white grapes, while her juicy butt cheeks are beautifully displayed — with Lana doo-doing a marvelous ATOGM, but not before perv Pax whorishly coos to her, "Taste all my shit on his fuckin' dick." Wow!
More not-to-be-missed scenes follow … There's a terrific girl-girl sequence with 25-year-old Californian trollop Adriana Chechik, whose on-screen hubby pays for Rhoades to get it on with randy wife Chechik. Lots of great girl-girl-anus-sucking ensues. Afterwards, the movie's one and only interracial interlewd has Rhoades getting (of course) ass-fucked, but this time by some big-shit celeb, in the form of Ace Rockwood, who makes her sign an NDA (non-disclosure agreement) before they fuck. Can you believe? Anyway, it's still a rockin' rectal romp.
And, lastly, Rhoades delivers a devastatingly dirty DP with (look out! — spoiler alert!) the returning Valjean and none other than Lana's boss in the movie, played by Mick Blue; a chance 'meating' which is obviously, thanks to Lansky's taut direction, a surprise to both Rhoades' and Blue's characters alike. Highlights here include a fantastic double blowjob, with plenty of deepthroating and saliva-dripping, as well as some truly pounding doggie and reverse-cowgirl double-penetrations. And how does Lana deal with the dilemma of facing her boss in the office after she's fucked him for dollars? I won't give away the ending, though (yet another spoiler alert!) the final message is that, in the end (literally and figuratively), a touch of shade most certainly pays.
I should add that — along with the nuclear licking/sticking, excellent videography, and engaging storyline — writer/director/co-producer Lansky is clever in making Rhoades look more and more made up as the movie progresses, until she's absolutely stunning during her last two episodes, i.e., with Rockwood and during the Valjean/Blue DP.
I sincerely hope to see more features of this type from the talented Lansky, wherein an amazing porn specimen, along the fine-ass lines of a Lana Rhoades, is showcased, with a fairly absorbing storyline and oodles of searing XXX sucking/fucking revolving around her. And to all readers having the good taste to quickly snatch this one up, happy viewing — and spewing!
Synopsis:
Tushy.com is proud to present its latest showcase LANA the story of a young woman's sexual discovery written and directed by Greg Lansky. Lana Rhoades plays a law student struggling to manage her time and finances. When she notices her roommate Kate thriving in a situation not too different from her own, she asks for some advice and is introduced to the world of transactional relationships. Over the course of a year, Lana has a series of unforgettable sexual experiences and learns the art of anal sex with a myriad of interesting clients. Her story culminates in an incredible double penetration that changes her life forever. Lana Rhoades delivers a performance of a lifetime, an unforgettable career defining experience not to be missed!