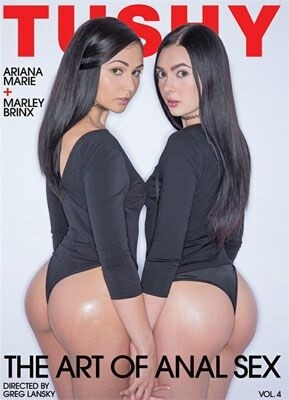 Director Greg Lansky's amazing anal anthology series cunt-tinues, with this fab fourth volume featuring Euro gents cornholing gorgeous American gash, with equally high points going to all five scrumptious/sodomized sluts.
In a simple but sizzlingly salacious scenario, blistering brunette Ariana Marie gets it on with her stepfather, Italiano Christian Clay, and her best friend, similarly off-the-scale dark-haired Marley Brinx. From Toronto, Canada, the tantalizing 22-year-old Brinx is not only hypnotically seductive but incredibly nasty, visibly loving it when Clay gapes her anus in the doggie position, while relishing moments when she can rooter out Ariana's shithole with her tongue, not long thereafter performing a good old-fashioned ATOGM. Whew! 23-year-old Ariana, from Dallas, is no less boner-inducing, as the slightly more submissive of the two young hussies. And check out how the ladies take turns (back and forth) choking (hack and forth) on Clay's cock. Awesome!
The very exotic-looking Jade Jantzen — 23 and, like Ariana, also an import from Dallas — is, actually, of Russian-German roots (yeowza!), making for one highly fuckable-looking bimbette, who, like Ariana and Marley, gets her rectum ransacked by the returning bald-headed Mr. Clay, who doesn't mind reaming his girlfriend's roommate (Jade) at the figurative drop of a hat, which Jade more than willingly bends over to pick up. Check out, by the way, how Jantzen's ass is displayed in all of its juiciness as Clay doggies her stinker. Deeee-lish!
In another true spermblaster of an anal anecdote, 28-year-old Bostonian Jenna J. Ross is a ballerina who sucks and fucks her way to the top spot in a ballet by seducing the show's director, Austrian horndog Mick "with the magical prick" Blue. Ross is a fair-skinned, slightly meaty morsel who's a joy to watch as she chokes on Blue's boner — some excellent eye contact here! — while exuding pure whorishness when he buttfucks her in pretty much every position, with Ross at one point trampishly asking Blue, "Do you like how my hole opens for you?" when he gapes her. Love this bitch!
Lastly, big-assed trollop Riley Reynolds — 25, from Manhattan, New York — will do anything for a raise from her cheap, bald-headed boss (who else?), Christian Clay, first getting a rise out of his thick, veiny cudgel, with which he mercilessly invades her mouth, cunt 'n' crapper. Reynolds is particularly a vision to behold in the spoon position, as shitpit-obsessed Clay gets a good rhythm going, crazily slamming his groin against her bountiful butt cakes, which jiggle with equal madness. Great chick!
From (s)tart to finish, "The Art of Anal Sex 4" does not disappoint. Do yourself a favor and absolutely catch these marvelous buttfuck babes in action!
Synopsis:
TUSHY.com and award-winning director Greg Lansky are proud to present The Art of Anal Sex Vol. 4, a series dedicated to showcasing top models in beautifully shot hardcore anal sex scenes. TUSHY.com's The Art of Anal Sex Vol. 4 is shot with the highest quality of production and features captivating storylines. Don't miss it!