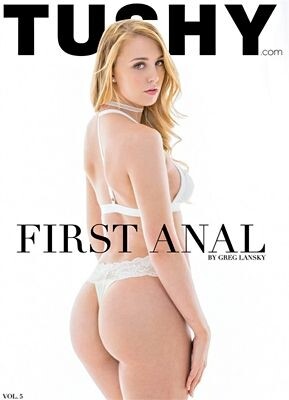 Four bawdy babes take on two Euro gents Jean Val Jean and Christian Clay during the course of a volcanic quartet of anal tales — all four ladies, supposedly offering up their first on-camera cornholes — care of the fine pervs at Tushy.com.
Spoiled rich college bitch Chloe Scott likes to fuck frat boys at her home when her parents are out, ultimately getting caught by Jean Val Jean, her dad's friend, who accidentally busts in on one of her boy-toy trysts, winding up with gorgeous, ultra sexy Chloe in the bedroom and eventually banging her butthole (how like life). Her blowjob starts things off with a slow burn, until Jean starts mouthfucking her, then there's plenty of gag, choke and spit. Awesome stuff. Cowgirl is great, with Jean occasionally spanking the slut's amazing butt cheeks. But it's reverse-cowgirl at which point we finally get anal, and a magnificent view of Chloe's tasty bod. Doggie offers a few fine gape-er-oos, though there are far more during missionary, where Val Jean really does a lot of the ol' in-out/in-out, culminating with an anal cream pie; and after Mr. 24601 sticks his weasel back inside, Chloe raunchily responds, "Oh, you're putting your cum back inside of me." Nasty girl. Love her!
When blonde, babe-a-licious babysitter — and terrific dirty talker — Haley Reed takes her filthy rich (and just plain filthy!) boss, the returning Val Jean, up on his proposition of $2,000 to fuck her while his wife's gone, Reed shows her true anal-whore colors. Reed starts by giving a slow, loving deepthroat of a BJ, followed by a crash course in face-fucking, which totally rocks, complete with (like preceding tramp Chloe) lotsa spit. Jean really pounds her during cowgirl. "I'm coming," she tells him. Reverse cowgirl gives us some pounding anal. "You like my asshole?" she asks the Frenchman. Doggie anal is deep and sizzling. "I've got so much cock in my ass," Reed coos, before offering a few gapes, followed by more during missionary, during which she lets Val Jean penetrate her in a pretzel position. "You wanna watch yourself fuck my tight little butthole?" she asks him, followed by, "Am I gaping good for you, daddy?" with Jeanie boy eventually splatting big spurts o' Parisian paste onto the sweetie's oh-so-pretty mug. Grand shit!
Next, bespectacled redheaded cutie Pepper Hart, another babysitter, seduces her boss, Jean Val Jean yet again (am I in the middle of a Val Jean showcase or what?!), with scorching buttfuck results, seeing as Pepper is just one of those girls who looks like she absolutely does not belong in porn — but, thankfully, she totally proves me wrong. She gives a slow and luscious BJ with plenty of (yes!) eye contact (though I do wish she didn't take her glasses off). Pepper's tight little ass cheeks are well-displayed during cowgirl; bitch knows how to ride that prick. Val Jean eventually puts it up her patooti for some deep dung drilling during reverse cowgirl; ditto for doggie, though we get some good gapes during the latter sphincter stretch session, with her cunt hole actually winking at us, unintentionally though so erotically. "I'm your dirty girl… I want you to fuck my dirty ass," she murmurs, followed by, "I wanna wrap my asshole around your cock." Nasty talk like that'll get you off pretty fucking fast! During mish anal, and a few more gapes, Pepper whispers, "I want you to leave my asshole stretched so that I can feel it all day… and then later." Wow! And check out how Val Jean sprays spermatozoa all over Pepper's innocent-looking face. Double wow! I like everything about this sweetheart, even her slightly quirky voice.
And we end on a nuclear note, indeed, as college cutie/butt-fuck-a-licious brunette Ivy Aura is caught by her dad's friend, Christian Clay, who finds the little tart working at an adult store, so she decides to visit his digs and fuck him into silence — while he, however, winds up pounding her anus into oblivion. After spanking her butt cheeks (she, in fact, craves punishment), Clay gets a major BJ from this marvelous slut. "Massive cock," she tells him. "I love it." With a little dildo up her anus, she then lets him fuck her cunt cowgirl style, before Clay takes out the dildo, makes her lick it, sucks her anus, then has her sit that shitter on his hitter, once again in the cowgirl position. It rocks, and Ivy's the only girl in the lot here who gives an honest-to-goodness ATM; followed by reverse-cowgirl, spoon and doggie anal, with the latter being a true, and quite obvious, highpoint, what with Aura's unforgettably juicy ass cheeks. She gives more ATMs in-between doggie skewers of her steamy craphole. Clay then jackhammers Ivy's poop chute in the mish posish, with numerous choice gapes, followed by a big burst of Sicilian dick-snot upon her tongue. Ivy's yet another keeper!
Except for Jean Val Jean's constant ass-grabbing (and blocking our view of three of these girls' fantastic butt cheeks), and the fact that there's just too much of Val Jean period in the (w)hole movie (try three outta four scenes!), "First Anal 5" is still an all-around wanking winner, made truly amazing thanks to director Lansky's X-cellent choice of four all-natural anal beauties.
Synopsis:
Award winning studio TUSHY.com is proud to present the fifth installment of its cornerstone series, First Anal Vol. 5. Directed by visionary Greg Lansky, this collection continues the series? standard of excellence, artfully capturing natural beauties? first anal experiences. Cover girl Chloe Scott stars as a promiscuous college student spontaneously hooking up with a family friend while her parents are out. Also featuring Haley Reed, Pepper Hart, and Ivy Aura in unforgettable debut anal performances of their own. All presented with captivating story lines and the industry defining production values that TUSHY.com is known for, First Anal Vol. 5 will take your breath away.