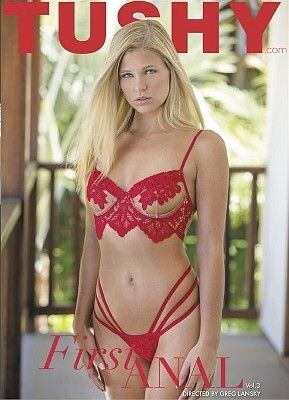 Another awesome anal addition to your Greg Lansky/Tushy.com collection! This lucky third "First Anal" volume features one gorgeous, sexy babe after another, with high points going equally to all four of our fuckworthy young foxes.
Scarlet Red (24, from Aspen, Colorado) basically screws her sister's husband, Jean Val Jean, while the latter is in the same house, with Val Jean really doing a number on Red's (soon to be very red) rectum. What I like most about Scarlet is the way she "oooohs" and "ahhhs" when Val Jean sticks his tongue or finger(s) up her little anus. She's a fine cockgagger, too (Val Jean makes sure o' that!). And every Scarlet position is amazing, seeing as the girl has such a phenomenal body.
Wiry Kristen Scott (21) plays the young mistress of (yet again) busy baguette-toting Val Jean, whose wife is outta town; with Kristen surprising her pretty-boy lover when he's having a Skype conversation with wifey (who, thankfully, doesn't see Kristen), leading to a 'punishing' session a la Val Jean o' buttfucking. He gets Kristen's ass cheeks good and red, via spanking, before fucking her mouth, cunt, then ass (and sometimes switching between her turdhole and twat), with Scott offering some amazing gapes and having one of the cherry-reddest anuses I've ever seen; the perfect receptacle for a (yeow!) cream pie. Marry me, Kristen! — now!
Harley Jade (22, from Boise, Idaho) and Amanda Lane (21, born in Poland, but raised in the U.S.) also offer terrific tushy tales. Jade pisses off her stepbrother, Xander Corvus, by pouring soda all over his laptop (a revisited Lansky scenario), causing her semi-pissed-off bro' to spank and then bang the (literal) shit out of "sis." Big-bottomed Jade is superb in the cowgirl and spoon positions, her luscious ass marvelously spotlighted, with Corvus not getting his paws (hear, hear) in the way. And the striking Amanda, while her boyfriend is out, does the nasty with his roommate, another Frenchman, in the form of Manuel Ferrara, featuring one scorching anal-doggie session. Amanda's another one of my future ex-wives. Love this bitch!
Trust me, you won't be disappointed with "First Anal 3" and its quartet of luscious, lascivious lassies. It's (no shit) the shit! Dig in!
Synopsis:
From the award winning studio of Tushy.com comes First Anal Vol. 3. A selection of young natural beauties in their exclusive first anal debuts directed by visionary Greg Lansky. Watch cover girl Scarlet Red in her very first anal experience. Also featuring all first time anals with Kristen Scott, Harley Jade and Amanda Lane. Superbly filmed in 4k with the superior cinematography that Tushy.com is known for. This movie is about quality with an unparalleled attention to details.