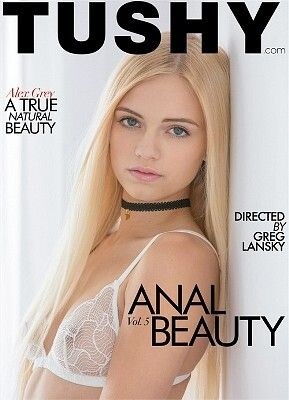 Talk about an awesome foursome of girls each getting her rectum wrecked in this superb anal vignette series. Wow! And I can't help but give extra high points to Russian-American cutie Elena Koshka and Eurasian ultra-babe Morgan Lee, the latter being, as expected, blazingly nasty. Yes!
Spinners/beauties Alex Grey and Adria Rae definitely rock in their separate salacious stories. Grey is a gorgeous blonde who gets it on with her father's chauffeur, played by Italian baldy Christian Clay, with our man from Milano really making the bitch gape golfball style. Love it! Adria Rae, a wonderful up and cumming brunette babe, plays a student who wants the domination treatment from her German teacher, (who else?) Mick Blue. Rae is a fine cockgagger and I can't get enough of her in the doggie position, particularly whilst having her sphincter shattered. Lovely little filthy thang!
But Elena Koshka? Look out! This sweetie is not only pretty, with a killer bod, but truly a superb degenerate. Here she plays a fledgling model who gets down and dirty with her hairless Italiano photographer (who else?) Christian Clay, with Chef Boyardee totally burying his veiny salami in her crap vat. Elena is truly one of the most striking girls in porn, making it an extreme turn-on seeing her do such decadent deeds, like licking her own shit offa Clay's cock. Love ya, Kosh baby!
And we end on a fiercely nuclear note, as both sexy and beautiful Morgan Lee, playing a physical trainer, lets one of her trainees, Tommy Gunn, penetrate her each and every hole, one at a time, of course. Lee is just so passionate in her scene, not only proving herself the best cock-gagger and the best ATMer around (no cheating on shit-licking from Morgan!), but she also gets so, so, so into her performance.
While Gunn remains relatively quiet as he drills her dung ditch, Morgan is seductively, almost hypnotically vocal, purring for him to bury his cock deeper in her ass, telling him that she's getting her multiple times (you believe it, too!), and thanking him for "stretching" her anus. This scene is definitely awards-worthy. Can't get enough o' Morgan. And catch how Gunn gives her a semi creampie, proving that it's not fake by pulling his cock outta her steaming shitter whilst he's in mid spurt. Fantastico!
"Anal Beauty 5" is truly one of the best anal titles of the year, made all the more scorching thanks to its fab foursome of fornicating floozies, especially Koshka and (have mercy!) Morgan.
Synopsis:
TUSHY.com and award-winning director Greg Lansky are proud to present Anal Beauty 5, a series dedicated to showcasing gorgeous young models in beautifully shot hardcore anal sex scenes. Covergirl Alex Grey shines as a bratty rich girl that gets more than she bargained for. Also starring Elena Koshka, Adria Rae and Morgan Lee in passionate and intense scenes of their own. TUSHY.com's Anal Beauty 5 features four incredible anal sex scenes shot with the highest quality of production. Don't miss it!