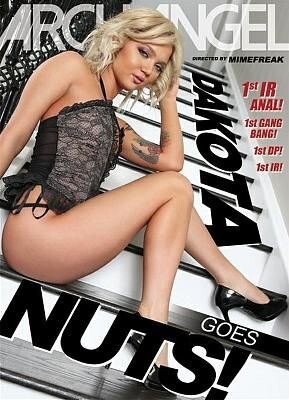 When she's made up properly, little exotic-looking blonde punkette Dakota Skye (22, from Florida, and of yummy German, Russian and Chinese descent) could easily be a James Bond babe (probably the hot-looking sacrificial lamb featured briefly in the first quarter of those big-screen Ian Fleming actioners). And the otherworldly Dakota certainly shines like a star (albeit a cum-covered one) in this superlative showcase, which includes her first interracial, DP, gangbang and interracial-anal scenes. Damn, nice!
We start with Dakota getting hammered by her first on-camera black boner, in the form of the dark salami of a guy named "Stallion," with Dakota proving she's one of the best-ever cocksuckers to ever hit the splooge screen. Love it, too, when she looks at us/the camera as she goes all the way down with her mouth on greasy cock.
Next, Prince Yahshua plays a twisted minister who gets Dakota in the "right" state of mind by fucking her deep up/down her fine behind. And did we mention that Prince's poo-poo petering marks her first-ever black-cock-up-the-crapper caper (in porn, at least)? Yeah!
This Skye shtupping is followed by her premiere small-screen double penetration, as pud pirates James Deen and Roman Nomar do-doo the whore honors, doubly sticking her in a variety of DP positions, including reverse cowgirl, standing, and, of course, doggy.
Naturally, the climax (boy howdy!) is the Dakota gangbang, in which five lucky pricks get to do, well, pretty much everything to the slutty bitch, including blowbangs, anal trains, DPs and ATMs. And dirty little Dakota loves every inch/minute/drop of this multiple manroot plastering. With a lengthy direct-to-the-camera interview in which super slut Skye explains the murky machinations behind her filthy feats, "Dakota Goes Nuts" is a smut celeb showcase you simply cannot miss.
Synopsis:
The ever seductive Dakota Goes Nuts in what is her first interracial anal, gang bang, double penetration and interracial scenes for your viewing pleasure. This tight blonde will have all her holes violated and love every second of it!