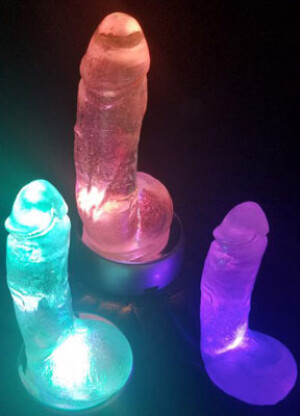 If you are sexually adventurous and want to add something unique on your nightstand or other places, try the Blaze of Glory Stroker Dick Lighting by It's the Bomb. It's a night-light that holds an acrylic dildo on a rotating, color-changing base. It comes in various colors and sizes. It is sure to make a party fun or people talk.
Product Description:
Light up any boring room, bedroom, bathroom, man cave, powder or even those fun parties and get togethers, etc; with our brand new, never seen before, illuminated dick lights…
These naughty, best selling, lights/night lights sit on a rotating, color changing base and make a perfect Erotic gift or conversation starter every time. Looks like glass but isn't.
Comes in 2 sizes. Both Include a turning, up lit, led light base with ever changing colors.
Plug in or battery capable.