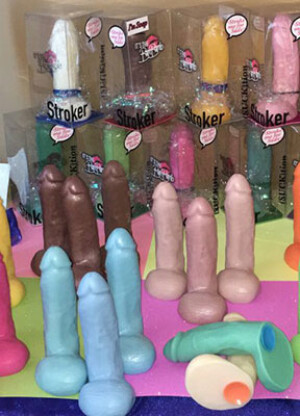 Do you really love stroking a penis whenever you can, and do you love slippery things, and being really clean? Well look no further than this delightful soap shaped like a girthy penis. Washing your hands and naughty bits just got that much more exciting and fun. Display it proudly in your bathroom for all your guests to use.
You can get it with or without a suction cup for easy use.
Great for practicing your hand jobs on the regular and becoming the best hand-job giver ever. Get two and work out both hands at the same time. You will have endless fun in the shower. Makes the best gift. 
Product Description:
Get a grip on our Sudsy Strokers! This Girthy conversation starter will stand proud on his own in your bathroom counter-top, tub-deck, or a decorative dish. We can also add "the money shot" to your stroker. Simply wet your hands and stroke him for suds.