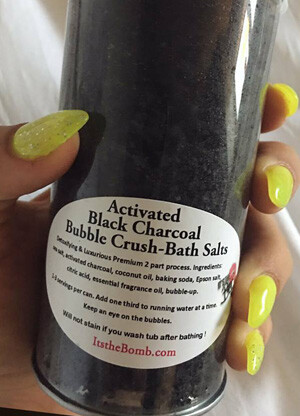 Activated Black Charcoal Detox (ABCD) is a tube filled with bath salt that turns the bath into an inky black color. We actually really loved that part. It was great to be sitting in the opaqueness and not be able to see anything a couple of inches down. The only label on the tube contains the instructions and ingredients including coconut oil, Epson salt, and activated charcoal to name a few.
As we poured the tube into the running bathwater the pleasant fragrance was immediately released. The bottle only describes it as "essential oils for fragrance" but we would have to go with a sweet floral arrangement. The contents begin to dissolve quickly with a few stirs of the hand. There is a definite soapy film that will have to be washed off after the bath. It is tends to be rather slippery, do be careful of that. It was a pleasurable experience for the both of us.
Manufacturer Description:
The Best Bath Salts Detox ever!

Copyright © 2023 Adnet Media. All Rights Reserved. XBIZ is a trademark of Adnet Media.
Reproduction in whole or in part in any form or medium without express written permission is prohibited.