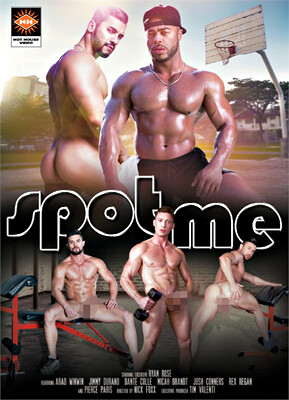 Four solid scenes of athletic, sporty fuckplay — two of them outdoors at found locations — with a sizzling matchup between Arad Winwin and Micah Brandt among the highlights.
Jimmy Durano and Dante Colle are jogging together and stop on a secluded park path, alongside a tennis court, for an outdoor suck-and-fuck. Durano, muscled with a bit of scruff, confidently dominates Colle. A slurpy blowjob leads to Durano sliding his famously curved boner into Colle's lightly furred crack as the latter moans appreciatively and jacks out a load onto the concrete.
A marquee matchup pairs sultry sex bomb Arad Winwin with firecracker Micah Brandt, whose body literally quivers with erotic fever as he and Winwin dine out on each other. Brandt's can't-get-enough erotic mojo really seems to stoke Winwin's fire. Brandt chokes and gags himself on Winwin's cock and they furiously fuck on a bench, on an actual basketball court, as the sun goes down.
Elsewhere, Durano returns to spot Rex Regan in the gym but the latter's obvious boner is an obvious distraction. Durano, who doesn't seem to age, sucks Regan's cock down to the root, twists his balls, maintains eye contact, preps his chute and generally pays close attention to detail so that Regan is relaxed and utterly ready to be piston-fucked atop a weight bench.
In another gym, chiseled hunk Pierce Paris is spotting burly, handsome Josh Conners, but they can't clock many reps with erotic idol Ryan Rose nearby curling weights. They trade quick, frenzied blowjobs and assplay — the wondrous Rose dining out with relish, as usual — and pull a train with Rose leading the way and Conners putty in their hands.
Synopsis:
Whether you're pumping hard in the gym or sucking cock outside, you always need a spotter. When the eight studs of Spot Me get down and dirty, they all look out for each other no matter where they are as they get their cocks wet and their assholes stretched. The hunks of Spot Me all have each other's backs, even when they're having each other's cocks and asses. Jimmy Durano and Dante Colle are jogging and stop to catch their breath. Between the two of them, they leave three thick loads on the sidewalk in the park. Micah Brandt and Arad Winwin are playing basketball in the park when they notice no one is around. Micah cautiously offers up his ass and the two studs fuck courtside. Arad makes quick work of their fun and dumps his load in Micah's mouth before Micah finishes. Muscly personal trainer Jimmy Durano is training Rex Regan at the gym when Jimmy notices that Rex has a hard-on. Jimmy slides his giant, uncut dick deep into Rex and plows him until both studs spray their loads all over Rex's tight body. Pierce Paris is training Josh Conners on the weights when Ryan Rose takes notice. After approaching the sweaty studs, the trio forms a muscle riddled fuck train, right in the middle of the weight room.