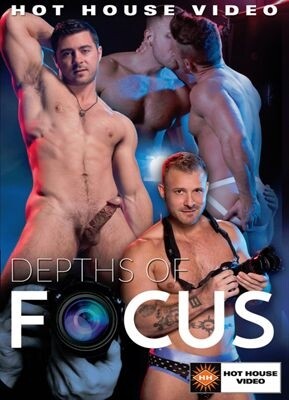 Sexual shenanigans abound, on and around Hot House Video photo shoots. Tall drink of water Austin Wolf smoothly dominates a threesome featuring adorable pup Gabriel Cross, built like a gymnast, and handsome Alexander Volkov, whose ass is made to be framed by a jock strap. Wolf, towering as usual over his costars, is a confident topman, guiding the action with a wry grin. Cross, very cute, is an intense performer and should fulfill many a college-wrestler fantasy.
Another notable matchup pairs off musclebods Micah Brandt and Johnny V together for a photo session where they have trouble — quite understandably — keeping their hands off each other. Both men are sexual firebrands. Brandt throws an intense piston-like fuck into his partners when he is playing topman and Johnny V, a masculine power-bottom, takes every thrust and begs for more. The erotic heat between them is terrific.
Elsewhere, Sean Zevran, reigning XBIZ Gay Performer of the Year, is catnip to his tailor, of all things, played by burly Derek Bolt. Zevran has never looked better. His muscular physique glistens with sweat as he sinks his cock into Bolt's ass. Their chemistry feels low-key, but Zevran, especially, is an eye-catching hunk.
Jacob Taylor and Jordan Boss play a couple of horned-up production assistants. Both are youthful and built like college wrestlers or rugby players. They're both fairly quiet as they make out and trade slurpy blowjobs. Taylor proves himself a forceful topman and both pop oversized loads.
Synopsis:
Go behind the scenes of a steamy Hot House shoot. Get a special all-access look at what happens behind closed doors when shooting the hottest porn stars on the planet!