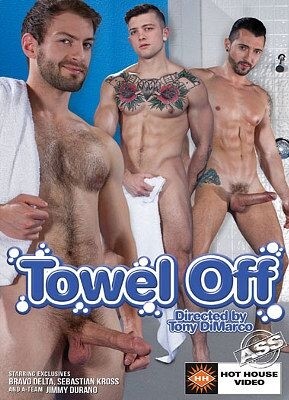 A quartet of smoothly shot shower- and locker-room sex vignettes anchored by the magnetic Bravo Delta and the scene-stealing dominance of hunky wall-of-beef Austin Wolf.
Post-twink cutie Gabriel Cross is creeping on furry stud Bravo Delta as he showers and sets up his camera phone to record him. When Delta drops his towel to reveal his oversized boner, Cross is hypnotized — who can blame him? — as Delta turns the tables on him. Delta's low-key, unforced masculinity draws in the viewer. Cross clearly can't get enough of that smooth confidence as he deep-throats Delta and submits to a vigorous assplay session. It's a terrific scene that showcases both performers nicely.
The fourth and final vignette finds Bruno Bernal admiring his smooth, tanned and ripped body in the mirror; that prized bubble butt straining against a jock strap is a mighty distraction. Austin Wolf, who towers a foot or more over Bernal, turns up and quickly establishes a dominant vibe that stretches from a superb bout of deep-throating straight through to a very hot piledriving fuck session. Bernal is putty in Wolf's hands.
Stalwart Jimmy Durano, handsome and muscular, is a good match for notable newcomer Jack Hunter. Both are nicely hung. Their vibe is similar to the attraction between Delta and Cross; Hunter appears to really dig Durano's sexual confidence. In the opening scene, Josh Conners — low-key handsome in a dude-next-door way — gets himself started with a Fleshjack (or similar) toy when Sebastian Kross turns up to give him a hand. But why waste that beautiful boner? Best aspect of their sexplay occurs when Kross lies back on a bench to allow Conners to ride his cock.
The multi XBIZ Award-winning Dimarco is one of the industry's more talented craftsmen and he creates moments to showcase each of the studs. The jocks-and-showers theme is spiced with a bit of dominance and submission.
Synopsis:
In Towel Off, beefed up studs work out, hit the locker room, drop their towels, show their muscled butts and fuck hard. There's nothing hotter than a gym shower fuck, and award-winning director Tony Dimarco takes these hot-assed men to another level. After watching the steamy and sticky action, you're gonna need to Towel Off. Josh Conners is caught by Sebastian Kross jerking off so Sebastian lends a helping hand and his hard cock. Gabriel Cross tries to record Bravo Delta in the shower and gets caught, and must pay the penalty with his hole. Jack Hunter joins Jimmy Durano in the steamy showers for some mouth-to-cock action before getting bent over and fucked hard. Bruno Bernal is mesmerized by the heaping sight of Austin Wolf and quickly ends up bouncing on Austin's thick rod.