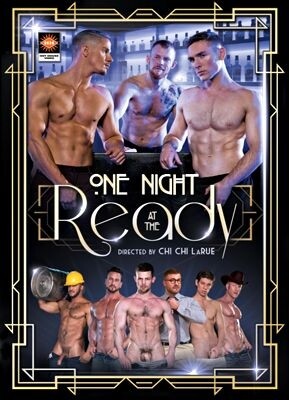 Directrix Chi Chi LaRue explores the sexual stories being told by the patrons of a gay bar that has seen better days. Highlights include sensual, romantic lovemaking between brawny Austin Wolf and boyish pup Fane Roberts and crazy-hot submissive sex with burly Jason Vario and gorgeous Sky Knoxx.
Kurtis Wolfe and Michael Delray are straight-ish guys drowning their sorrows who finally find sexual release together when they both slip off to the men's room. Wolfe is lean and boyishly handsome with sensual lips while Wolfe's good looks are more wolfish and he easily dominates his encounter with Delray, who is putty in his hands.
Austin Wolf and Fane Roberts share a terrific hotel room assignation that crackles with seemingly genuine romantic chemistry. Roberts is college-jock handsome while Wolf towers over him with his broad shoulders and brawny physique. They kiss with tender passion (before and after they make love) and Roberts contorts his body to take every inch of the aggressive pounding Wolf doles out. It's a terrific pairing.
Skyy Knoxx — fashion model handsome with a beautiful swimmer's physique — pairs off with burly African-American stud Jason Vario, done up as a construction worker. Their sexplay is flavored with kink and submission and Knoxx is there for every second of it. He licks Vario's boots, deepthroats his awesomely thick sausage and rides Vario's boner aggressively and hungrily. Vario rips open a fuck-hole in the suit Knoxx is wearing and Knoxx, with nothing underneath but a jock strap, is more than ready to be ravaged.
The final vignette is an energetic threesome anchored by musclebod Johnny V., who offers a gift in the (superb) body of Dakota Rivers to bartender Jack Vidra. While Rivers is a stoic, handsome topman, and an ideal fantasy figure, bearded Vidra and affable Johnny V. share a sexy, friendly chemistry.
LaRue's legendary sixth sense for casting the perfect sex partners is on full display. Kudos for crafting erotic vignettes around a gay bar that offers respite to its patrons, a type of venue that is on the endangered list in the 21st century era of hookup apps and social media, but at one time was the center of gay life and community.
Synopsis:
Welcome to The Ready -- a dimly lit bar attached to a dim hotel. It's seen better days but it has a definite charm, a feeling of home and community to those who have made it their special place to go. If these walls could talk...well, through the experiences of nightshift bartender Jack Vidra they can. Join Jack and eight of his regulars for 'One Night at the Ready' and find out why this is such a HARD job to quit. The Ready Bar is a special place where locals come to hang out and strangers are always welcome. Dimly lit and attached to a hotel, the politics of hustlers, the dynamics of old friends, and the cravings of lonely men converge to form a perfect place where passion and sex are always in the air. Award winning director Chi Chi LaRue heads up a cast of nine horny studs who will make your 'One Night at the Ready' an experience you won't soon forget! Michael Delray and Kurtis Wolfe are straight buddies from their college days. After discussing how their wives no longer put out, they end up in the bathroom where Kurtis feeds Michael's asshole with his big thick cock. Fane Roberts sets his sights on Austin Wolf and the two head to a hotel room. After rimming Fane's ass, Austin slides his meat inside the lonely stud and finishes up with a load in Fane's mouth. Every night at the bar is compelling, but this 'One Night at the Ready', as seen through the eyes of the bartender will get your cock hard and squirting in no time!