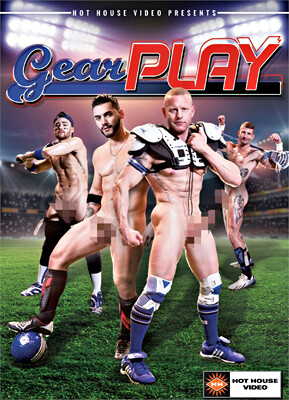 Five scenes of intense sportsgear-themed sexplay. Nine terrifically fit studs wear their padding, jock straps and cleats as they fuck in and around a stylized arena meant to symbolize rugby, football, soccer and baseball.
Inked Sean Maygers appears twice and first turns up in a strong flip-fuck with hotbod Ryan Rose (handsomely scruffy this time around). They're sporting spandex shorts and what looks like a few pieces of rugby gear. Rose is a controlled performer who really needs a fuck partner of equal intensity to bring out his best and Maygers delivers; it's always a pleasure to see Rose bottom onscreen. He never gives an inch and forces Maygers to keep up.
The latter returns in another scorcher with Austin Wolf. They're supposed to be baseball players. The burly, brawny Wolf, who towers over most of his costars, is an eye-popping vision as he bulges out of a jock strap and proceeds to utterly dominate Maygers, who clearly gets off on the very different vibe in this scenario. Wolf is a fantastic topman who pays attention to the details.
Musclebod Johnny V. also turns up twice: a frenzied matchup with fitness model Aaron Savvy and again opposite dark, sultry beauty Arad Winwin. Savvy's spectacular physique, in particular, is built for a gearplay movie (that round ass framed by a blue jock strap is glorious) and their match-up has a more sensual vibe. Soccer fans will get a kick (pun not intended) out of Winwin dancing the ball around; at one point, he balances one foot on the ball while he piston-fucks Johnny.
A threeway features extra-hung JJ Knight and wholesome, athletic blond Nick Sterling double-teaming lean, dark-haired power-bottom Beaux Banks; however, Knight's cock is huge enough to share and it spends some time inside Sterling's butt, too. Banks proves he's eagerly up to the task of servicing two athletes at once. A marquee moment occurs when Knight holds Banks in his arms as they kiss while Sterling, on his knees, tongues Banks' ass and jacks Knight's python at the same time. Knight rewards them both with an impressively thick, splattery climax.
Synopsis:
Go hard or go home! These nine horny athletes from three different sports love to suck and fuck in their gear. Sit back and watch their Gear Play as they peel off sweaty jockstraps, get their balls played, show off their dripping muscles, and blow off steam from rough games and long, hard practices for their coach/director Nick Foxx. Gaze on as they work their ripped muscles in stiff competition, and enjoy cocks, ass and flesh with all the Gear Play you can handle. Lacrosse players Ryan Rose and Sean Maygers get out of their sweaty uniforms to get dirty in front of the bleachers. After sucking on Sean's big stick, Ryan bends over and the two studs flip-fuck their way to a creamy finish. Beefy football player Aaron Savvy tackles Johnny V on the field before he mounts up and rams the wide receiver's tight end. The hunky jocks fuck hard until Johnny ends up with a mouth full of cum.

After baseball practice Sean and Austin Wolf meet up in the locker room. Austin makes it way past third base when he stretches Sean's throat to the limits and slides his slugger deep into the jock's tight dugout. On the soccer field, Johnny gets between Arad Winwin's legs to explore his massive bulge. When the studs get out of their shorts, Arad gives his teammate a pounding that leaves Johnny drenched with jizz. Catcher Beaux Banks gets railed by starting pitcher Nick Sterling as JJ Knight gets his baseball-bat-sized cock sucked by Beaux. JJ steps in as the relief pitcher and fucks both young jocks until Beaux's lips and beard are dripping with cum. No matter what sport you favor, you'll love our sweaty jocks and hung studs who fill their cups to the limit.