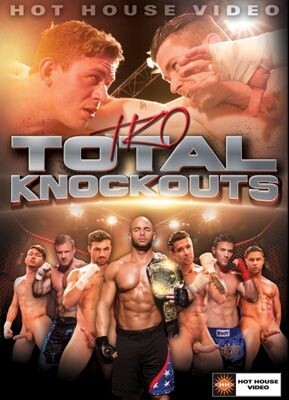 Eight prime studs toss each other around a wrestling ring as the shorts come off and the victors take their spoils. Lightly spiced with dominance and submission. No singlets but a good showcase for fans of muscle hunks who bulge out of their jock straps.
Tall drink of water Austin Wolf, looking better than ever these days with his alluringly muscular thighs and pumped chest, grapples with and smoothly dominates Josh Conners. Their bout contains an edge of dominance and submission, one of Wolf's specialties, and Conners submits without putting up much of a fight. Special kudos to full-throat blowjobs and Wolf's focused, deep-dicking skills as a topman.
Studs that can match his intensity bring out the best qualities of Ryan Rose, a cocky, aggressive performer. The smooth-chested, superhero-handsome hunk has a good match with Ian Greene, dark-haired, slender and fiery, who sucks down Rose's cock — the latter seems to enjoy both giving and receiving in equal measure — and bounces hungrily on his pole.
The bout between muscled stud Trenton Ducati and Alexander Gustavo, a handsome and sensual hunk with a very sexy mouth, bubbles with energy and loudly vocalized grunts, moans and groans. They tumble around the ring a bit, but sex is clearly the endgame. Kissing is particularly passionate and Ducati throws an aggressively exciting pistonlike pounding.
Adorable Micky Jr. is slender and wiry and makes an honest effort to take down Sean Zevran, reigning XBIZ Gay Performer of the Year. They are an appealing match of physical opposites. Zevran is a visual marvel — bald, charismatic, bulging with smooth muscle — and a confident sexual performer whose skills are best demonstrated with a bit of dominance and submission, like castmate Austin Wolf. Case in point: Micky Jr. does a handstand so Zevran can eat out his bubble butt. Zevan drives his curving cock up into Micky Jr. with focused aggression.
Tech credits, via director Nick Foxx, are smooth and polished, with a full wrestling ring, brightly lit, and enough angles, including overhead shots, to convey enough of a sense of authenticity.
Synopsis:
It's the ultimate fight, everything's on the line and these fine athletic studs will do anything they can to finish off their opponents. They're jacked up, they're hot as hell and they're horny as fuck...they're 'TKO Total Knockouts'. They will fuck you until you beg for mercy and throw in the towel. Nick Foxx directs eight relentless, horny studs who punch, grapple, wrestle, suck, and fuck their way to mixed martial arts victory. Ian Greene is the up and comer vying for the win against Ryan Rose, but Ryan's USMC training gives him the upper hand over Ian and his tight ass. Austin Wolf asserts his solid, massive body in dominance against Josh Conners, claiming his prize with a no-holds-barred fuck. Trenton Ducati imparts some pro tips upon Alexander Gustavo, winning the fight and giving Alexander a hands-free cum shot. Mikey Jr. takes a beating from Sean Zevran, bending over to take Sean's cock doggy style and receiving a load to the face. Watch the excitement, intensity, and heavy action as the studs of 'TKO Total Knockouts' fight for the sexual dominance.