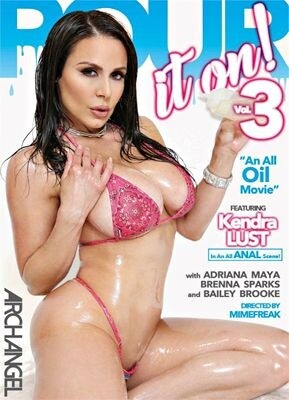 These babes look even better all oiled up, with each of the four featured vixens giving horny performances, capped by a scorching anal finale care of ultra MILF Kendra Lust.
Big-bootied black fox Adriana Maya not only sucks Chris Strokes' cock with gusto, but knows how to shake her luscious moneymaker in each and every position, with cowgirl definitely being one of my faves, since her scrumptious butt cheeks are so visible and animated in this particular stance. Equally arousing are spoon and doggie, with Chris heatedly burying his bone in Maya's no doubt sopping cunt.
Fair-skinned Bailey Brooke is another meaty morsel, with Tommy Gunn banging away at her tasty slicked-up figure this slime around. I love the slow and steady way Bailey performs cowgirl, while at the end of her scene, she returns to this dick-hardening position with a more frenzied pace. And check those terrific tits — not too big or too small — marvelously spotlit in both firmness and bounciness during reverse cowgirl, while they jiggle nicely during missionary. And, yes, doggie with Brooke is fanny-tastic, seeing as Bailey has a butt (and all-around bod!) ab-so-fucking-lutely made for smut.
With Laotian roots, pretty brunette Brenna Sparks' somewhat large augmented boobies look fine oiled up, as does her sweet little butt, which James Deen slams good and proper, with Brenna providing some superb gagging deepthroat action, with lotsa dripping spit at times. Her lube-drenched ass cheeks are amazing-looking during cowgirl, with plenty of wondrous spring action, while she keeps sucking a mean prick whenever given the chance. And aside from Brenna's cute, fuckable face, I really like her succulent thighs. Umphh!
And for the piece-of-ass-de-resistance, we have the incredible Kendra Lust, looking as lovely and acting as lascivious as ever, here getting seriously cornholed, a la oil, by Spanish swordsman Roman Nomar. As you can imagine with a uber whore like Kendra, there isn't a bad position here, and she delivers all of 'em with the utmost passion and, simply put, horniness. Right from the start, Nomar sticks his prick right up her greased-up rear doggie style. You're gonna love it! I also like how he fucks her sideways, with her pervertedly prominent ass muffins magnificently standing out. We have more doggie anal (she can't get enough), followed by spoon cornholing (love the near-constant eye contact and ATMin'), reverse-cowgirl (check out those tasty thighs — on Kendra, not Ramon), cowgirl (just can't get a more juicy, jiggly, yet deliciously firm derriere than on killer Kendra), with Ramon poppin' his nut during some volcanic spoon anal. Whew! What a barnburner!
If you like seeing curvy, sexy, bottom-laden tramps getting down and dirty with plenty of oil generously poured all over their choice goods (the slick liquid makin' 'em look even more fuckable!), then you're gonna positively adore this gooey-spewy gonzo.
Synopsis:
Get slicked up again! This time with Kendra Lust! Lube up, Pour It on, and slide on in to satisfaction!