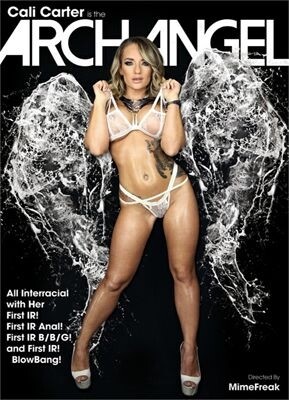 All-time slut Cali Carter is, actually, a first-timer in this showcase from ArchAngel Pud-uctions, as the showcased 27-year-old from Sacramento gives us her premiere on-screen interracial boy-girl, boy-boy-girl, anal and blowbang, with coquette Carter laudably showing her true sexual colors.
Cali's first interracial one-on-one and two-on-one sequences are definitely whackable due to her horny prowess in the cowgirl position. Carter initially gets it on with Prince Yahshua, who really gets a fanny-tastic groove goin' when Carter sits her slit on his prick cowgirl style and bumps away, ultimately leading to a nasty (yes!) creampie; ditto for the following suck-fuck session, as Yahshua returns, but Rico Strong's joint joins in on the fornicating fun, with el Princo, once again, creaming inside Carter cunt during cowgirl (guess the guy can't help himself… and we don't blame him, what with that succulent Cali booty!). Both fellas, by the way, don't fail in making little Carter thoroughly gag on gritty gristle! It's visual caviar — straight outta Porn Valley!
In scene three, Cali's shithole loses its on-screen interracial virginity when veteran cunthound Sean Michaels boosts our brave gal's bunghole with his monstrous link. Again, Cali shines in the cowgirl position, wildly riding Sean's black serpent with her stinkhole, with our man Michaels understandably unable to prevent his Johnson from blasting goo upon this fiery fire-hydrant-sized vixen — more specifically, all over her luscious ass cheeks — during doggie. Right on, Sean!
Finally, in the middle of a circle of greasy black cocks, Cali sucks off five bros — Donny Sins, Nat Turnher, Isiah Maxwell, Sean Michaels and Chris Cock (nice name) — with our girl Carter showing superb whore expertise as she chokes, gags, coughs, hacks and nearly vomits on one dick after another. Whadda slut! Good girl, Cali!
The only thing further to say about this torrid gonzo is to simply "get Carter!"
Synopsis:
All Interracial with her first IR! First IR Anal! First IR B/B/G! and First IR BlowBang!