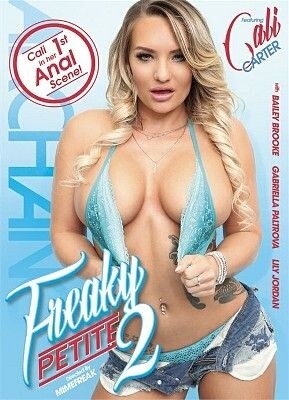 As the X-pression goes, "good things (cum) in small packages." And that's definitely the case with the four hot little sluts in "Freaky Petite 2," with two of the included tramps doing anal; while the title features Cali Carter doin' her first-ever on-screen buttfuck sequence. Huzzah!
James Deen, actually, gets to slam this gonzo's two classically attractive bitches: Lily Jordan and Bailey Brooke. Both of the ladies are way cute, with Lily being an exceptional spinner, really letting Jimbo go at it. Not a bad cocksucker, either — Lily not Jimmy. But I really dug Bailey Brooke. Whew! This bitch is the shit, even though she doesn't take it up the shit chute in her scene. Check out her luscious little body! What an incredible booty on Bailey — not too big, not too small — definitely highlighted in the cowgirl position. And she also sucks dick with gusto. I ab-so-fucking-lutely wanna see more o' this juicy lil' sweet thang.
Ah, but now let's revel at the two nasty female cornhole kids in "Freaky Petite 2." Cali Carter is doin' her first on-camera sphincter spearing here (a la Mick Blue's meat tube), and Carter definitely looks like she's dung this sorta thing before. She takes to ass-fucking like a wino to "Night Train!" She loves it! Cali's particularly horny to view in the cowgirl and doggie positions, her plentiful butt cheeks wondrously gyrating like mad. And let's not forget her superb cockchoking efforts. Wow! This pint-sized slut knows how to gag on gristle! Watch as her eyeballs (staring right at ya!) start to water as she goes right down, for a long time, to the base o' slob-stick. Good girl!
But my favorite scene features Gabriella Paltrova, as she's seriously cunt- then ass-dunked by Euro smasher Ramon Nomar. And Paltrova doesn't just have a sexy face, she's got a delectably scrumptious, marvelously fleshed-out body, taking it deep down the throat/in the twat/up the tukus. And, like Carter, she's great to view in the doggie and cowgirl positions, as her big, chunky (a good thing with Paltrova!) ass is magnificently framed in all of its wibbly-wobbly lusciousness.
"Freaky Petite 2" features lusty ladies who might not be tall, but who truly suck and fuck like giants.
Synopsis:
Freaky petite girls! They're smaller and just fucking feel better. If you've never slipped inside a little lady, watch this and feel bad for yourself!