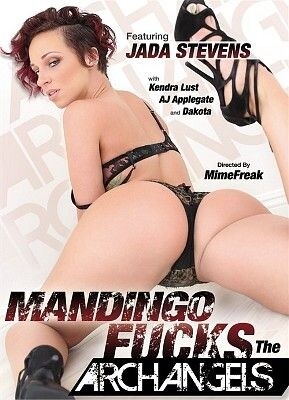 The novelty of any movie with Mandingo is to see how well (and how deep!) the starlets can take his monolithically-sized, 12-inch manroot. And all four ladies featured in this ArchAngel pud-uction do their sucking/fucking damndest, with some truly whackworthy results.
Jada Stevens, of course, has that big booty that men of all shades dream about fucking and Manny seems like he's in some kinda heaven while she backs up that superior posterior onto his one-eyed monster, shaking those butt muffins with laudable energy; while little Dakota does her damndest to stuff Dingo's wrinkled dingy into her cake hole, then her honey hole. Fair-skinned Dakota is such a tiny, thin muchacha, it's almost surreal seeing her jam that gigantic joint into her orifices. Kudos, baby!
But your blood will really be flowing like nitro through your veins (especially through yer raging prick-a-rooni) when you view the awesome activity exhibited by sex queens AJ Applegate and Kendra Lust. At 27, AJ looks just as edible as ever. It's a great age for a porn star, and she definitely is that, choking like a champ on our showcased male's black behemoth, with plenty of spit and rude noises, while it's strangely hypnotic watching her butt cheeks ripple and roll as Applegate rides the Man cowgirl style; ditto for doggy!
And Kendra Lust? She's equally awesome. At 38 years of age, Lust is an exquisitely sculptured work of porn perfection, from striking face to luscious legs, with a great pair of beautifully augmented jugs and the finest ass in XXX in-between all of that good shit. Check her out not only in the cowgirl position (like AJ, her rolling cheeks are spellbinding/dickbursting), but also how she gets Mandingo's huge hose all slick, wet and shiny with her hungry mouth. I'm eternally grateful that this bitch is in hardcore; Manny — quite visibly!... and understandably! — is, too!
In closing, "Mandingo Fucks the ArchAngels" is an apt title, though it could just as easily be called "The ArchAngels Fuck Mandingo" considering how the likes of AJ and Kendra do such a damn good, totally nasty job o' sucking/fucking Mandingo!
Synopsis:
Four incredible interracial scenes of XXX sluts in action that are sure to get you off.