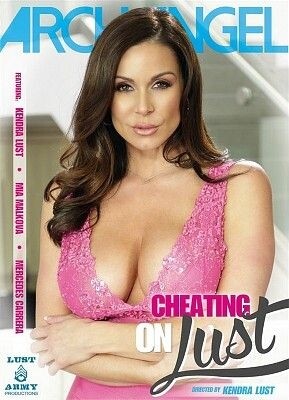 Yeah, sure, Mia Malkova and Mercedes Carrera are great trollops, but the real selling point in "Cheating on Lust" is cougar extraordinaire Kendra Lust (supreme ass, tits, face, attitude and all), with luscious Lust being (hallelujah!) in three of the four fiery scenes.
There's a wee bit of a story (if you wanna call it such), with Lust being obsessed with her on-screen hubby, Romeo Price, being true to her, even though the two degenerates are swingers, with Price and Lust starting things off with one helluva horny one-on-one, augmented by Kendra's superb cocksucking skills, whilst it's similarly a revelation seeing that meaty yet firm butt of hers bent over and getting wildly humped by lucky pumpster Romeo.
Another rousing raunch-o-rama is the threesome between Kendra, Mia and Romeo, with Mia's ass cheeks coming to life (as they always do, bless their jelloey cunt-sistency) in the doggie position, and Kendra still, even with Mia's charismatic presence, being impossible to not focus on, she's just so delicious-looking as an electric diva o' decadence.
The girl/girl sequence with Mia and Kendra is not to be missed, either, mostly to simply witness Lust licking and sucking Malkova's turd tunnel, while the final inter-lewd 'tween Mercedes Carrera and Romeo is similarly worth catching to view the big ass muffins attached to Mercedes pulsating like mad while she gets salami-slammed from behind.
While the 'story' logic in this thinly veiled gonzo leaves much to be desired (if you're even particular about that sort of thing), "Cheating on Lust" is a strong title, completely, heavily, intensely flavored by the hypnotically, ridiculously sexy Ms. Lust.
Synopsis:
Kendra Lust and a few of her close friends bring you four sizzling scenes! Nothing lacks here, always the most beautiful women guaranteed.