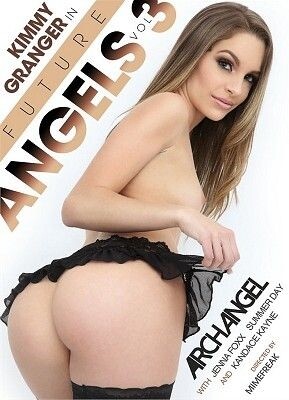 Plenty of hard-hitting sex in this ArchAngel gonzo, with Kandace Kayne, Jenna J. Foxx and Summer Day getting high points for being such hot-to-trot little sluts.
That's not to take anything away from DVD cover girl Kimmy Granger, either, who's perhaps the most animated of all of the women in the flick, really taking charge when she's hooked up with James Deen. This spinner (Kimmy, not Jimmy) is just bouncin' all over the friggin' place! Good girl!
But I have a soft — and definitely hard! — spot for Kayne, Foxx and Day.
The first deviant damsel, Kayne (24, from New York), just looks crazed (a good thing) as she gawks at the camera with those big, wide eyes during her glam moments, before Mr. Pete shows up and really barbecues her curvy figure, making her choke on cock and soon slamming her good in doggy style. Love those big jugs and meaty cheeks!
Exotic-looking Jenna (20, from Canada) does her damndest to take all of Criss Strokes' thick wrinkled salami in her little gob, with absolutely horny results. She also has a sweet pair of large but not overly so boobs; and if her greased up big, brown ass in the spoon position isn't enough to get you off, then you're just not functioning.
Lastly blonde Summer Day (22, from Seattle) is another all-natural sweetie — she's equipped with liquid eyes, succulent body and the kind of baby fat which makes her all the more scrumptious — getting totally into her humping from Russian invader Markus Tynai, who really makes the fine wench deepthroat his blood-enriched worm, while spanking her big ass in the doggie position; his foot romantically scrunching her ever-smiling face as the two freak out on a porn sofa.
Lots of arousing energy in this MimeFreak-directed title, with all four tasty young whores definitely earning their pay — and spray!
Synopsis:
Get ready for Future Angels 3! It's the 3rd installment of the series that predicts who the next big stars will be.