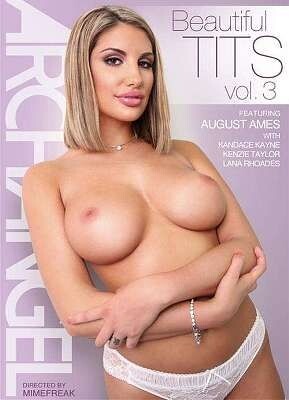 Beautiful tits? You betcha, buddy, especially on fresh babes August Ames and Lana Rhoades — which isn't to say that their faces and asses aren't similarly fucking bee-you-tee-full!
And the other two mega-boobed babes? Nothing to scoff at, lemme tell ya. Kenzie Taylor, for one, might not have a pair of au-natural titties, but she's got plenty of smiles and spirit when letting monsieur John Strong prong her. And I absolutely adore the manner in which curvy-figured Kandace Kayne — flaunting a nice, natural rack — slowly, deeply sucks the fat prick attached to Bill Bailey. And while Kandy seems to sincerely enjoy her humping, she also strangely, but no less charmingly, appears a wee bit nervous in front of the camera; a slutty sort of shyness I didn't mind in the very yeast.
Now, to the main boob/bun events: August Ames and Lana Rhoades. A 20-year-old newbie from Illinois, Lana is pure porn gold, with the fair-skinned sweetie's amazing, 100-percent natural breasts fully highlighted during reverse cowgirl while bouncing on, of all hired guns, Ramon Nomar, with our girl giving a magnificently adoring BJ to the similarly over-exposed Spanish beefcake.
Nomar also gets to skewer gorgeously figured 22-year-old August Ames of Nova Scotia, whose tits are so perfect, they still don't look real to me; but her butt is most definitely all-natural. The gorgeous girl (with sexily pumped up lips; as in the facial kind), while usually supplying way too much wrist rather than mouth action when sucking dick, is absolutely fabulous in the doggie position, with Nomar, quite understandably, going to town on those choice cheeks. Ms. Ames is a winner, alright!
This foursome of tits (making eight in all, for all you mathematicians out there) is definitely a good 'un. Be sure to catch each and every part of August and Lana — not just their titillating, totally titular tits.
Synopsis:
Do you love beautiful tits? ArchAngel has you covered. Get ready for the 3rd installation of this tittastic series starring cover model August Ames in her first scene with ArchAngel, along with our contract star Kenzie Taylor and those beautiful tits! We also have Kandace Kayne and busty teen sensation Lana Rhoades making their ArchAngel debuts as well in this all tits, all hard action from start to finish in each scene.