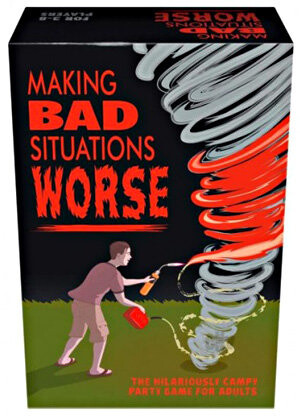 Just when you thought a card-induced situation was bad, along comes another card to make it even worse! Gasp, you must, at the bad situation you're given, such as "My gynecologist tries to create an echo while I am in the stirrups" then another player gives you an even WORSE idea after that. The mud slings, the insults build up, and when you're done, you'll have laughed your ass off after hurling the worse ideas making bad situations worse! Bring it on!
Product Description:
The adult party game where you try to submit the worst reactions to bad situations. Roll the die to select and read a bad situation, then ask the other players how to make it worse. They submit answers from the Make It Worse cards in their hands of 7 cards each. Read the answers aloud and award a point to the player who made the bad situation the worst.