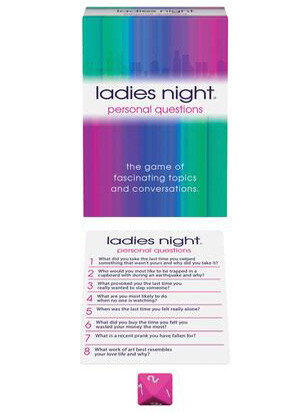 The Ladies Night Personal Questions game is a great way to get the fun going during brunch, sleepover or any other girls-only party. I brought together a group of my girlfriends that didn't know each other and by the end of the game, it was like we were all besties! While some of our answers to the "personal questions" were completely made up, we all bonded over each other's sense of humor and we even shared a few of our actual truths. The packaging is pretty and simple, which makes it easy to store along with our other family board games.
Product Description:
Learn about your friends through four categories of intimate and interesting questions. Win the game by being the player that best guesses how her fiends will answer. Great fun for all of your ladies night events.
Game include: 1 Ladies Night spinner, 1 Ladies Night game pad, 40 Just for Fun questions cards, 40 Lifestyle questions cards, 40 Style & Beauty question cards, and 40 Love & Relationship questions cards.
Game cards and instructions are in both English & Spanish.