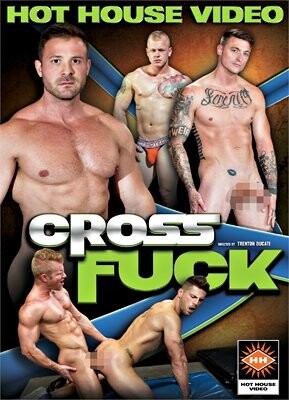 A quintet of solid matchups between gymbods with a smattering of humor from performer-mogul Trenton Ducati. Scruffy Dante Colle, adorable pup Leo Luckett and a sensual pairing between wall-of-muscle Austin Wolf and lean, hung beauty Jack Hunter are among the highlights.
Affable musclebod Johnny V is a gruff personal trainer putting Roman Todd, wholesomely handsome, through a series of drills. He pulls out his boner as a reward for each sit-up, which leads to vigorous blowjobs and some terrific ass-eating before they trade-off on furious piston-fucking, which our coach handles with ease and vocal appreciation.
Johnny V returns later to quickly engage in semi-nude poolside drills with Pierce Paris, tall and ruggedly handsome. They dive into the pool and then move indoors for more fierce, aggressive sexplay, including deepthroat cocksucking and another pile-driving ass-pounding.
Dante Colle and Dane Stewart are pumping iron when the latter bashfully asks the former for advice on how to "fuck better" and feels he would benefit from a one-on-one lesson. Stewart agrees without so much as an eyeroll; now that's a good friend. Colle is muscled and adorably scruffy with screen charisma to spare; he's a performer to watch.
Compact, mohawked cutie Leo Luckett's workout includes a bit of sub/dom puppy play with Woody Fox. Luckett clearly gets off on the roleplaying and he adorably howls like a puppy, on Fox's orders, as he rides his topman's cock.
Tall drink of water Austin Wolf, all muscle and low-key sexual charisma, works over lean, extra-hung, blue-eyed beauty Jack Hunter (still sporting a mustache that works on him). It's a strong pairing of physical opposites and the two men share a palpable chemistry, particularly as Hunter's ass is prepped atop the weight bench and given a slow, sensual plunge that differs from the sexual aggression of the earlier scenes.
Synopsis:
Cross Fit training is grueling, but when the studs around you start whipping out their thick cocks and showing their perfect asses, your gym time becomes Cross Fuck. Then all you can do is sit back and enjoy all the sucking and fucking you can handle. A workout at the gym is always a good thing, but things will always be a bit better when it includes a Cross Fuck. When Roman Todd gets tired at the gym, cross-coach Johnny V whips out his cock as an incentive for Roman to do a few more sit-ups. Soon the workout gets scrapped in favor of some hardcore flip-fucking that leaves Johnny covered in jizz. After finishing a workout, Dante Colle asks Dane Stewart to teach him how to perfect his form in fucking. Dane is happy to oblige and demonstrates how to fuck both face and ass before he hands the reins to his eager athlete. Dante demonstrates his quick learning abilities by fucking his coach up the ass until both hung studs blow their wads.

Johnny V and Pierce Paris hit the coach's couch after a competitive workout in the backyard. Johnny gets Pierce hard as a rock with a nice long blowjob and then bends over to take every inch of Pierce's massive monster. Woody Fox is hazing his new teammate, Leo Luckett, with a bit of puppy play before Woody pulls out his giant, uncut cock and has his pup lick it. It's not long before Leo is bending over to take every inch that Woody can stuff into his asshole before he gets to lap up Woody's big load. Jack Wolf is working out alone when coach Austin Wolf comes in to check on him. Austin notices that Jack has a boner and offers to help him relieve some tension. The two studs swap blowjobs before Jack ends up with his legs in the air getting the cum fucked out of him.