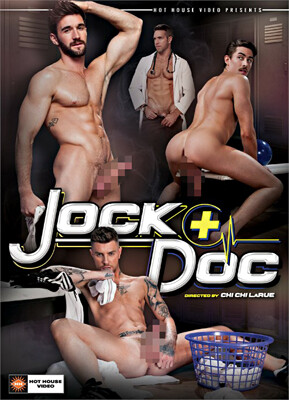 Helmer Chi Chi LaRue, billed as a "guest director," marshals an A-list cast of athletic hunks for a lightly humorous spin on injured athletes and their anal exams, including too-rarely-seen stud Woody Fox and legendary cocksman Dean Monroe.
Woody Fox, an eye-catching Aussie stunner who comes-and-goes from the biz, is back and more fit than ever, for a locker room fuck session with blue-eyed, extra-hung hottie Jack Hunter. The latter is one of the best all-around performers and maintains eye contact as he services Fox, powering the scene, and really seems to feel every inch of his topman's cock.
Coach Ryan Rose discovers Danny Gunn (boyishly adorable, inked, fit) sniffing jock straps ("Smell like roses?") and metes out his own brand of punishment. Rose goes right to town on Gunn and, frankly, devours him alive. He plays with and sucks down Gunn's pretty boner and furiously drives his prized cock into Gunn's butt and pounds like he's been waiting to shoot a load for weeks.
Erotica legend Dean Monroe — lean and inked with a handsome hint of grey in his scruff — offers one of his "magic massages" to Pierce Paris (blond, rugged), who has injured his shoulder. Dr. Monroe begins a teasing, sensual seduction of Paris and brings out his patient's kinky side. It's a treat to watch Paris blossom under the tutelage of a practiced swordsman like Monroe, who receives his own reward when Paris, now fully turned-on and ready to pop, fucks him with a hungry fervor.
Dr. Alex Mecum, superhero-handsome with a rugby player's physique, finishes his examination of lean, sensual Skyy Knox with a full anal exam. Mecum certainly knows what he's doing, but Knox's erotic mojo appears to unlock heretofore-untapped reserves. They flip-fuck and Mecum gasps and groans like he's never felt anything so good; Knox, for his part, is a fast-rising A-lister who could get a rise out of a marble statue. It's terrific sex.
Synopsis:
When athletes get an injury, they head straight to the Jock Doc, and when the doctor isn't around, a fellow athlete or coach will do just fine. With rock-hard bodies and plenty of tight holes to go around, these jocks suck and fuck their way to forgetting about their injuries by taking all the cock they can get. Being an athlete sometimes has its challenges, but at the end of the day, the Jock Doc will always make them forget their injuries with a hard cock up the ass. When Jack Hunter hurts his ankle on the soccer field, Woody Fox comes to his aid and helps him back to the locker room. Woody offers to rub Jack out and soon Woody's thick, uncut cock is balls deep in his teammate's tight ass.
Coach Ryan Rose catches Danny Gunn sniffing used jockstraps in the locker room. Instead of punishing Danny, Ryan sniffs some musty jocks with Danny and fulfills the young stud's fantasy by filling his eager ass with all the cock he can take. Pierce Paris injured his shoulder at practice and sets an appointment with nurse Dean Monroe to play a classic game of doctor. Dean gets his ass plowed by the injured patient's massive cock, leaving Pierce feeling better and Dean with two loads of cum. Skyy Knox is about to get a clean bill of health from Dr. Alex Mecum when Skyy insists on an anal exam. The doctor agrees that it would be a good idea and soon the doctor has more than his fingers inside his patient. The hung studs probe each other's holes until Alex is a dripping mess covered in their loads.