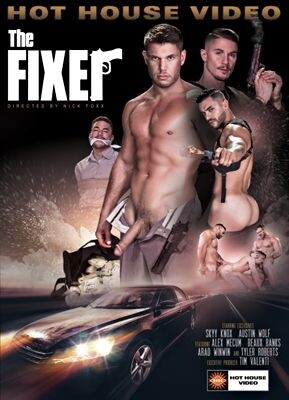 A tale of double-crosses, torrid affairs and quasi-espionage from Hot House Video and director Nick Foxx is an excellent showcase for musclebear Austin Wolf, although submissive pup Beaux Banks and gorgeous Skyy Knox nearly steal the show. Art direction, lighting and other tech credits are strong.
Dreamily handsome Alex Mecum happily services Wolf, downing his cock to the root and allowing himself to be deep-dicked in a variety of positions, including a bout of being handcuffed and roughly butt-slammed. Watch the expression on Mecum's face as Wolf jacks his raging boner to a splattery climax.
Frisky, lightly furred Banks, who hungrily and slavishly sucks down Wolf's boner as the older, brawny topman offers encouragement, offers more cock worship as he clambers atop a gleaming kitchen countertop. Wolf takes the opportunity for a vigorous tongue-fucking; later, in bed, the pup backs onto Wolf's cock and frantically fucks himself, groaning with pleasure.
Banks returns to submit to Knox, fashion-model-gorgeous with a ripped swimmer's physique, and who shines when he is the sub in BDSM scenarios (see the closing vignette); here, however, he utterly dominates Banks. They furiously make love atop a sports car, dripping sweat. Knoxx flexes his beautiful body and grunts as he drives his cock deeper into Banks and then jacks out a load. As he did with for Wolf, Banks submits eagerly.
The final setup has Tyler Roberts (strikingly handsome on the DVD insert) and Arad Winwin teaming with Wolf to exact revenge, of sorts, on Knox. They bend him over a table for a tag-team fuck session, each stud taking turns, while another one shoves their cock down his accommodating throat (watch as Wolf gently massages Knox's throat to open him up even further). Roberts and Winwin double-penetrate Knox and close out the "punishment" session by coating his handsome face with cum.
Synopsis:
The torrid love affair of a wealthy married man is secretly taped by his sexy young lover. Looking for some fast money he sells the sex tape to a dangerous man who specializes in ruining reputations for his own financial gain. But the blackmailer didn't count on 'The Fixer', a vigilante problem solver who uses all of his sizable weapons to save the couple from extortion. Who will come out on top in this exciting sexual thriller? Find out as Director Nick Foxx invites you into the dark underworld of 'The Fixer'. Infidelity, betrayal, kidnapping, blackmail and amazing hardcore SEX are all on display in Foxx's sordid sexual tale featuring six hunky studs in a dark web of greed, lust and redemption. The mayhem all starts when Austin Wolf (Alex) meets hunky Alex Mecum (Derek) for an affair in a seedy motel. After reaming Alex's tight ass, Austin reluctantly leaves him alone, but not all is as it seems. Back at home, Austin is hanging out with his husband, Beaux Banks when they receive a blackmail video of Austin's affair demanding money. The two devise a plan, but only after Austin gets his dick serviced and Beaux gets his hole stretched. Beaux pays a visit to Skyy Knox, who is out to destroy Austin's reputation. Not only does Skyy want money, he wants the thing dearest to Austin's heart -- Beaux. Beaux reluctantly gives himself over and gets his hole abused on the hood of his car. Austin, Tyler Roberts, and Arad Winwin arrive at Skyy's secret location. To punish Skyy for his indiscretions, the three hunks take turns tag teaming his face and ass and stretch him to the limits with an extra-long session of double penetration. Don't take your love or your life for granted because not everyone has enough money or 'The Fixer' to help make their problems go away.