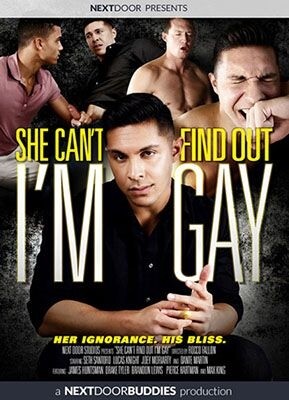 Her ignorance, his bliss. That's the motto for five vignettes of straight men straying, with Seth Santoro getting two scenes to cheat on his chick. In the opener, his wife doesn't show up to a session with therapist Max King — who is fond of role-playing. "I just want a blowjob, and she doesn't give them," shares Santoro, who soon has his cock inside the smoothie's mouth. The therapist gets slurped — then takes it to the next level as they fuck each other, King delivering a hot facial. Santoro returns in the finale, where he escapes gossiping wives with brother-in-law Pierce Hartman. Hartman convinces his bro to whip out his dick, the two swapping sucks (Hartman sports some glorious low hangers) before Santoro gets plowed in the back of a van.
After some heated talk playing pool, EMTs James Huntsman shows off his tight stomach for Brandon Lewis to admire — then whips out his dick for servicing. The hottest shot has Huntsman leaning back on the pool table, his chiseled abs and big boner on display as Lewis sucks away, his own hot throbber also in the frame. Lucas Knight uses dance lessons to get inside former college buddy Drake Tyler's pants, right before his wedding; while Joey Moriarty and Dante Martin (hot cock alert) trade kisses in the pool before sucking each other, with Martin then bending over.
Synopsis:
Seth Santoro hates his marriage. It's bad enough that his wife never pays attention to his needs, but she doesn't even make the effort to attend their couples' counseling session. Seth is furious, so to calm him down, counselor Max King suggests they use the time try some roleplay exercises. But when Seth reveals through roleplay that his wife refuses to give him blowjobs, Max takes the exercise a step too far and gets on his knees to suck Seth's dick! Seth is shocked, but Max insists it's important to keep the roleplay going, and Seth is so sex-starved he gives into his urges. As long as his wife doesn't ever find out! And Seth's not the only straying stud out there. Young hunk Drake Tyler plans to surprise his fiancee with dancing lessons for their wedding, but ballroom instructor Lucas Knight has his own plans for Drake – his 8" cock! Paramedics James and Brandon are goofing around while on-call, and James professes his girl hasn't been putting out lately – Brandon decides to help James out the best way he knows how, and bends over to take his buddy's pent-up load! Brothers-in-law Dante and Joey have fooled around before, and Joey can't get Dante's ass out of his head, so when Dante shows up at their private pool wearing just a speedo, how can Joey resist one more dip? It's true that Pierce and Seth are brothers, but only by marriage, so when they unwind at a family gathering with a few cold ones in the garage, Pierce makes a move on Seth that could cost him big – or pay off big time! Five forbidden tales of straight seduction and cheating that speak to anyone who's ever lusted after a married man.