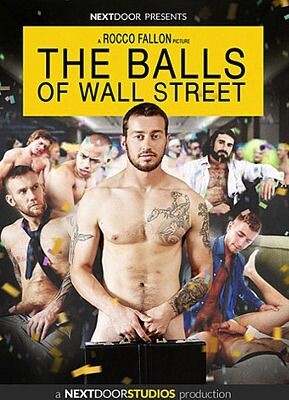 This three-hour, five-scene anthology from Next Door Studios doesn't borrow much from "The Wolf of Wall Street" other than the punny title and guys in suits talking business in-between blowjobs. Colt Rivers and Rey Luis (two scenes) are among the standout performers.
In "Cheating Business," burly, bearded Jaxton Wheeler fills out his business suit quite nicely. As soon as he's off the phone with the wife he's swigging from a champagne bottle and getting sucked off by lean, ripped and smooth pool boy Rey Luis. They trade expert blowjobs and Wheeler plows Luis' tight butt with confidence and pleasure. Luis cums as he's riding Wheeler, who jacks a load onto his furry stomach.
Alex Green and Abel Archer anchor "Cocky Realtors" (the house they're angling to unload has a killer view of lush verdant countryside). Green is lean and youthful while Archer is smirky and eager to cut a deal that will get him into his competitor's briefs. He chokes and spits as he tries to manage Green's entire plus-sized boner and gasps and groans throughout his vigorous ass-pounding.
Damien Michaels can't concentrate on a pitch for a new product from Mark Long in "Hard Divorce." They head out to party and blow off stream and tumble into bed like horny fratboys. Both guys share an easygoing, if tentative chemistry. Long is tall and lanky, inked-up and nicely hung, while Michaels sports a buzzcut, goatee and sleeve tatts.
Morgan Shades, blue-eyed with floppy blonde locks, a hairy chest and all-over tan is the epitome of California surfer (William Higgins would have had a field day with him). In "Creative Juices," he's strumming a guitar for a suited-up Rey Luis, who finds a way to help Shades overcome his writer's block. Luis administers expert oral attention and submits to a vigorous, sweaty ass-drilling.
The final vignette ("Hard Training") features Andrew Fitch eager to offer one-on-one instruction to an overworked Colt Rivers. Horny janitor Mark Long makes it a threesome. Rivers, a charming and likable performer, licks and slurps both cocks and responds eagerly to orders. He shoots up his lean chest as he's riding Fitch and both guys dump loads onto his tongue and chin.
Synopsis:
Wealth, power, ambition... and smoking hot looks! You have to work hard and play harder to rise up the ranks of stockbrokers, lawyers, music moguls and real estate tycoons to reach the top, and these young, fit financiers know hot to make bank - spank bank, that is! Pitch a tent with the 1% and discover just how occupied Wall Street can get when these businessmen start to get busy. Whether they're in designer suits or their birthday suits, these high-stakes sex-ecutives are in it to SIN it, plowing their way up the ladder with every boss's balls licked and client's ass dicked. Alex Greene, Mark Long, Colt Rivers, Abel Archer, Damien Michaels and more wolf down every dick in sight in five finance fantasies that pay off big-time. A Next Door Studios film.