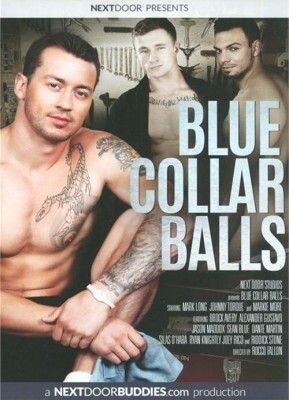 Mechanics whip out their big tools in five scenes of grease monkey spunk. In "Spark Plugged," Alexander Gustavo needs a new part — but would rather feast on tattooed mechanic Joey Rico's cock. They're soon joined by buddies Jason Maddox and Brock Avery, the four sucking and fucking each other in the back of a pickup (with Maddox's cock stealing the show). Super-ripped repairman Markie More then gets his rock-hard cock (seriously, it's super stiff) deep throated by Dante Martin, who rocks his own big cock. Martin (who also appears in a bonus solo) gets pounded — and doused in two hot loads.
"Broken Down Wheels" has mechanic Johnny Torque getting his cock worshipped by Silas O'Hara and Rocco Russo, who both bottom (Russo also dumps his wad on O'Hara's scruff). The chiseled abs and big dick of Mark Long attract the attention of Sean Blue — who is soon getting plowed over Long's ATV ("Only women get to ride that monster?") in "Bad Boys Ride," the top shooting on Blue's hole. And in "Dipsticks," listen to Riddick Stone let out a litany of hot verbal heat as he rams cute Austin Storm over the hood: "Like being my bitch? Tell me you like being my bitch!" he yells. "Is this the right tool? Reach down and grab my balls…you like those balls, don't you?" Phew…it's getting hot in here!
Synopsis:
Have you ever wished you could find out what your local mechanic's got going on under the hood? Then get ready for Blue Collar Balls, an exploration of the sexier side of handymen and the men they handle. This collection is chock full of grease monkey spunk, so ride along with six hot and horny bottoms as they rev the engines of the best blue collar buddies in the biz! Handjobs, blowjobs, rimjobs, these moto-sexuals have the right tools for the job and the right jobs for their tools. Markie More, Johnny Torque, Mark Long, Brock Avery, Alexander Gustavo, Jason Maddox and more star in five stories that will be sure to get your motor running. So buckle your seatbelt, because you're about to go for a ride... right on Mr. Fixit's dick!