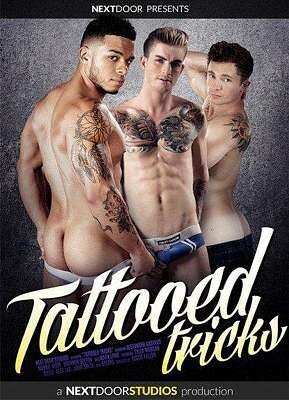 One might expect a punkish or anarchic aesthetic from the latest Next Door Studios anthology, considering the title and theme. Alas, it doesn't manifest, but it's nevertheless a solid, entertaining effort.
John Smith (a bland name for a handsome gent) is nervous about getting tattooed and Mark Long is there to comfort him. Smith does a creditable job with Long's impressively thick boner and balls and the latter (who doesn't return the oral favors) works up a sweat and splashes cum onto Smith's lightly hairy chest and ridged abs.
Petite, curly haired and pale pup Tyler Morgan, also nervous about the needle, is the physical opposite of burly, olive-skinned and inked Diego, who compares the pain of the needle to getting fucked for the first time. He offers to show Morgan the ropes (it's a full-service tattoo parlor). They share a tender, sensual chemistry but Morgan only submits to some oral and a handjob before beating a hasty retreat.
Scene four's Brenner Bolton, as ever a delectable slice of All-American beef, convinces reticent straight guy Alexander Gustavo to give mansex a try. Gustavo is lean with a classic look, solid acting skills and a bejeweled tattoo of a crown right above his crotch. He slathers Bolton's boner with spit and sucks it down to the base and proves himself an able topman with Bolton's guidance.
Markie More anchors a pair of J.O. vignettes and speaks directly to the camera to invite viewers to vote on whether newbies Alec Lad and singly named Destro deserve more screentime. More, for his part, is quite a package with his bashful good looks, Olympian physique and affable demeanor. Lad, a lean, inked skater with a man bun is clearly nervous but delivers a good blowjob; Destro, with raven locks and zero percent body fat is also nervous but he seems to enjoy trading oral favors.
Synopsis:
Tattoo parlor punks gone wild! These body art Buddies shed the shirts, ditch the denim, and toss the boxers to reveal hot inked bods, as they start turning parlor tricks in five tasty tales of tatted action. First-timer John starts to get cold feet in the parlor waiting room, but cocky jock Mark Long takes an interest in the nervous newbie. Mark has his own thoughts about where John should get his first ink, and isn't afraid to yank John's pants down to demonstrate! The view's so nice, Mark decides to give John a quick pounding right there in the waiting room before his appointment. Smooth twink Tyler Morgan is shaking in his boots as the buzz of the needle starts up, so buff and gruff artist Diego decides to soften the kid up with his own prick first. Alexander Gustavo's strapped for cash when he goes in for his latest touch-up, but tattooist Brenner Bolton offers a deal the straight client was not expecting - if you tramp, I'll stamp! And etched adonis Markie More indoctrinates two alt rookies into their first gay sex experiences, and leaves them covered with as much cum as ink by the end of it! They say that getting a tattoo stings like hell, but these horndogs look like they're having the time of their lives!