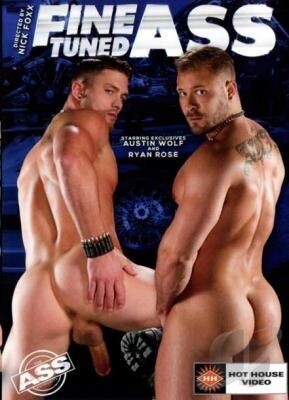 Director Nick Foxx makes love to the hole with his camera. What better place to do that than an auto shop staffed by hunky Austin Wolf? He spots Ryan Rose from behind, the jock's ass peeking out of his jeans. Wolf dives in, sliding his hand down Rose's crack. The two lock lips, Wolf using his burly hands to grip Rose's cheeks. Rose grinds his face on Wolf's building bulge, which soon pops out and is inside the sucker's mouth. Rose looks up at the hunk, whose massive chest bursts out of his dirty wife beater. Watch for the great shot that has Wolf waving his meat in front of Rose's face, a strand of spit connecting them the whole time. Wolf eats Rose and then fucks him, the top's big pecs twitching as he slams away. He leans in and nibbles on Rose's ear from behind (hot!), the bottom moaning "Give it to me baby!" Rose spreads his own cheeks, soon squirts and then gets a facial.
Watch Colt Rivers' face (and listen to his exclamation) when the monster cock of Aaron Reese pops out of his jeans. It's soon buried in both of his holes, along with a few big dildos. And Armando De Armas gets two scenes, fucking furry and light-skinned Chris Bines and Chris Harder, who gets a hot facial to end it.
Synopsis:
The `Fine Tuned Ass` at this motorcycle shop gets revved up by the hot mechanics and sexy customers. All of them want something powerful between their legs, and in `Fine Tuned Ass` director Nick Foxx directs eight amazing studs who deliver on all cylinders. These horny, sweaty men with big boy toys go all-out at the chop shop and fulfill their desires with hot sopping blowjobs, supercharged rim jobs and ride after ride on rock hard hot rods. Mechanic Austin Wolf services Ryan Rose`s ass-of-perfection and pumps his pistons hard. Armando De Armas takes Chris Bines asshole on a ride it will surely never forget. Aaron Reese finds some special tools and toys to finely tune Colt River`s intake and prep his fine ass for a high-RPM pounding. Chop shop customer Chris Harder comes in right at closing time and gets filled up by Armando De Armas, who delivers his uncut crank shaft into Chris relentlessly. `Fine Tuned Ass` comes at you full speed, and it will have you wanting to jump on a hot rod, ride it hard and cum big.