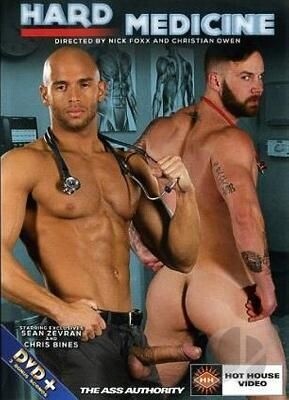 Is any setting more built for porn than a doctor's office? In the spirit of hits like "Paging Dr. Finger," "Trust Me, I'm a Doctor" and "My Doctor Sucks," Hot House continues its streak with this fun four-scene effort. Doctor Derek Atlas gets hands-on in his examination of smooth muscle stud Coby Mitchell, who is having trouble getting off. "Perhaps we could try something different," advises the doc, who breaks down the initially reluctant hunk with some anal stimulation — including his tongue, fingers and cock. Colton Grey then comes in to solve his groin swelling, getting jock doc Gavin Waters to open wide ("I don't know if my insurance is gonna cover that," quips Colton as his big dick gets slurped). The blond and tan hunk then fucks the tattooed patient.
Office workers Dylan Knight and Chris Bines have time to kill before the staff arrives, sucking each other off (Knight's cock is a beauty). Bines laps up his bud's ass (listen for some great munching sounds) before fucking him, then gets a messy facial all over his beard. And twink patient Armand Rizzo returns for an effective treatment from hot doc Sean Zevran, who uses some fingers, toys and his cock to make him all better. The hottest shot has Zevran's big boner jutting out of his fancy pants as he plows his patient's stretched mouth.
Synopsis:
Get a dose of Hard Medicine from Hot House, where the doctors, assistants and patients are all hot for each other and they go at it hard. Nick Foxx and Christian Owen direct the medical fantasy with the precision of surgeons and the intense ass action that Hot House is famous for. Doctor Derek Atlas helps his patient Coby Mitchell by providing anal stimulation with his hands and hard cock. Medical Assistants Chris Bines and Dylan Knight get in early and share a pre-workday fuck with Chris probing deep into his coworker's amazing butt. Colton Grey's dealing with a serious swollen cock issue and Dr. Gavin Knight knows how to cure what ails him: a blow job and a deep pounding fuck to his insatiable asshole. Armond Rizzo is a frequent patient of Dr. Sean Zevran, because Dr. Zevran knows the right treatment to use. Sean uses a special stainless steel tool, administers a serious face fuck and a plows Armond's perfect ass to make him all better. These sexy encounters will have you heading to the doctor hoping to get some Hard Medicine and hot doctor action of your own.