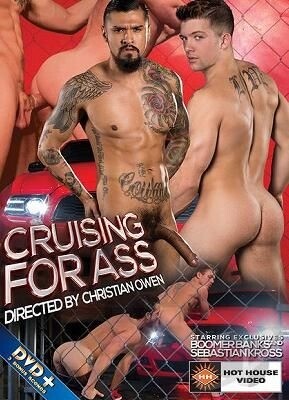 Leaning back on a sports car with a cigarette in his mouth, tattooed Colton Grey oozes cool. He grabs the attention of Dylan Knight, quickly on his knees for the hottest shot here: Grey's big, beautiful boner popping out of his jeans and into Knight's face. The side shots of the suck capture Grey's cock in full glory, Knight spitting on it when it isn't getting whipped on his face. Grey holds the stud's head and fucks his face, spitting in the sucker's mouth before offering his hole. Knight takes the alpha role, fucking the bad boy from behind — Grey's cock splayed against the car's grill ("You like that big dick?"). Grey also shows off his sweet meat in an all-oral encounter with Marko Carbo — who gets serviced before diving his tongue in Grey's ass ("Get in there! Eat that hole!"). Grey then gets sucked, beating his cock on Carbo's face before shooting his load.
The film opens with Alexander Gustavo already at work on Boomer Banks' monster, spit gobs falling to the floor as he gurgles and gasps for breath, the vein on his neck bulging. Banks plants his bushy beard in the sub's ass before fucking him. Gustavo returns to slurp on (and get rammed over a Mustang by) Jimmy Durano's big and thick rod; while Sebastian Kross fills up Casey More's holes.
Synopsis:
Horny, handsome men roam dark alleys Cruising for Ass, and these studs find just what they're looking for: the hottest butts around. Director Christian Owen celebrates the 100th Hot House production by sending his cast into the gritty low-lit backstreets where sexually charged men go to fulfill their need for release. With Boomer Banks' huge cock, Cruising for Ass comes easy, and Alexander Gustavo is willingly on his knees and bent over to take all 10 inches. Colton Grey finds Marko Carbo sitting on a park bench down town and goes down on him in no time. Jimmy Durano drives his muscle car to a well-known cruising spot and finds a hot mouth and fine piece of ass, Alexander Gustavo, ready to service his cock in every way. Sebastian Kross is so horned up he jerks off in the alley until Casey Moore cruises by and provides a hot ass to fuck. Colton Grey chills in his cruising spot knowing that a hot guy who wants his eager ass will come around eventually, and jock Dylan Knight sucks Colton's cock and lubes up his hole and plows Colton on the hood of a car. The erotic excitement of Cruising for Ass is in the air, and you can feel it in every look, lick and load of this milestone Hot House feature.