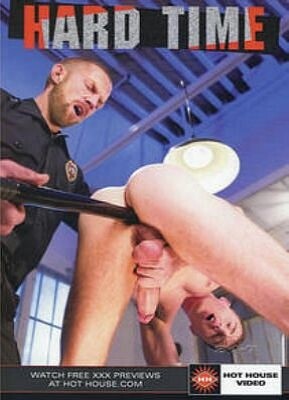 "Get over here and suck it, cock-hungry whore!" commands prison guard Landon Conrad to inmate Marcus Ruhl, who soon has Jimmy Durano's cock also jostling for position in his mouth. They then take turns fucking him, Durano spitting on the bottom when it's all done. Just another day at Hot House — where spirited aggression, uniformed role play and striking, colorful visuals are the order of the day. Director Christian Owen frequently offers up great angles — Conrad unleashes his beast right in our face, and the side shot of Ruhl feasting on it through the bars is fantastic.

Also striking is seeing Sam Barclay fuck JP Dubois through the cells, his cock disappearing as the bottom's tight abs clench — all framed between the bars. Tall, smooth and light-skinned guard Angelo then manhandles short, tan prisoner Alexander Gustavo ("You want to go back to your cell? Suck it!").

Watch the cutie sit down on Angelo's cock and ride on the desk like a champ. The finale has Dubois returning and submitting to one of the hottest men around, Adam Herst — who takes the alpha authority figure role and runs with it, fucking the bad boy with a billy club before whipping out his gorgeous cock ("Get it in your fucking mouth! Spit on it!"), then dumping a hot load on the bottom's ass after fucking him.
Synopsis:
There`s an overcrowding problem at the San Francisco county jail. It appears that guys are committing crimes just so that they can be locked up to serve some Hard Time. Who can blame them with a prison staff like Adam Herst, Angelo, Jimmy Durano, and Landon Conrad! There`s never been a hotter lineup on the police roster; just ask repeat offenders JP Dubois, Sam Barclay, Alexander Gustavo, and Maruc Ruhl. Together this all-star cast of muscle bound cops and horse-hung prisoners are doing Hard Time!