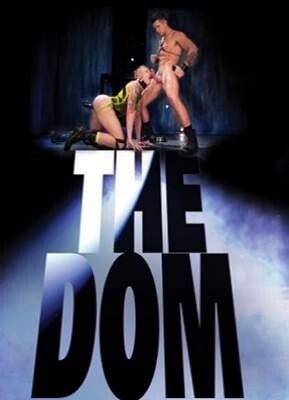 It's nice to see Christian Owen keeping the spirit of Hot House alive lots of attitude, bold colors and striking visuals (love the sunglass and dildo reflections!) permeate this ode to aggression. Filled with leather and latex, the film is highlighted by a fantastic performance from a very verbal Trenton Ducati as the master of dog James Ryder, who gets released from his cage and quickly gets a dildo tail up the ass. "You want a bone, boy?" asks Ducati. "Spit on my boot! Lick it off!" Ducati works Ryder up perfectly, getting him (and us) excited to see that huge boner burst out.

Ryder gets a huge strand of glistening spit that dangles between his mouth and Ducati's shaft, which is soon planted firmly up the bottom's ass. Ryder then squirts into his doggie dish and laps it up. Franco Ferarri gives a workout to the jock ass of J.R. Bronson, whose smooth back and ass beautifully fill up the frame as he squats down on a big dildo; Ferarri later returns to get worked over by the stunning cock of gas masked Jordano Santoro. Jimmy Durano plows handsome Mitch Vaughn in the rain, while Tate Ryder gets stuffed at both ends by tattooed muscle grunts Jake Genesis and Derek Parker.
Synopsis:
These guys are at the hands of the master.