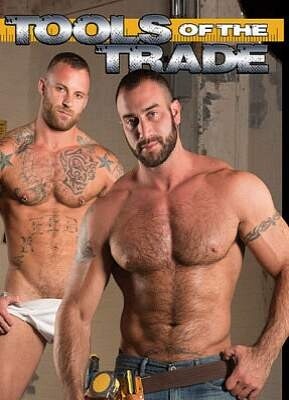 Is there any hotter job than the blue-collar handyman? Their tough guy tattoos, cut-off flannels and manly tool belts? The simple setups go a long way here, and things get off to a great start as former boyfriends Tate Ryder and Trenton Ducati go at it, the alpha Ducati taking charge of the initially nervous smoothie. "It's okay," whispers Ducati after grabbing Ryder's ass. "Yeah, you like that?" Ryder is soon on his knees, mouth ful as his puppy dog eyes look up. The bottom gets rammed over the urinal trough, then pleads "Eat your cum!" as he offers a soaked finger to the top. Hairy Derek Parker traps Jimmy Durano into a heated encounter, staying stiff as Durano plows him; while Ryder returns to gag on Topher DiMaggio's missile before mounting it.

But the porn de resistance is the unforgettable scene with Spencer Reed controlling employee Justin Beal—who gets his own hot boner slurped before Reed makes him his bitch. The verbal Reed shouts out commands, making Beal finger fuck himself ("See how many fingers you can fit in there, boy!") and bend over ("I want you to beg for my cock, boy!"). Reed's cock looks so big and juicy—and Beal sucks it like a champ before getting fucked, finally shooting out his own geyser of a load in a rewind-worthy squirt.
Synopsis:
The warehouse thermometer reads 101 degrees but that's not why these hung and horny construction workers are soaking wet. You'd break a sweat too if your co-workers threw you on the floor and screwed their giant cocks in your mouth before nailing your ass to the floor.