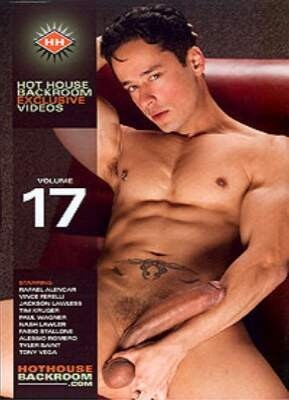 I've never been more jealous of anyone in my life than I am of Jackson Lawless, who gets to live out one of my (and undoubtedly millions of other gay men's) fantasies in the scorching finale of this five-scene web-based effort. In the locker room on his knees, his mouth gets stuffed by the massive cock of tall, handsome and hairy-chested Tim Kruger. That's enough to make me envious, but when voyeur Rafael Alencar joins Kruger in stuffing his huge cock down the insatiable sucker's throat, I nearly passed out. This, dear readers, is good shit. And it only gets better as our increasingly verbal tops take turns abusing the breathless bottom's ass, stuffing him from both ends in a frenetic fuck sequence that ends with Lawless shooting a huge load that hits his own chin.

Phew! I need a cigarette! That must-see scene is preceded by four more entertaining efforts, led by superstar Tyler Saint taking control of cute Tony Vega (who is so excited you can practically feel it: "Damn! That's a big cock!"). Another locker room encounter has the hairy legs of Paul Wagner and Alessio Romero rubbing together, while Nash Lawler fucks beefy hunk Vince Ferelli in the opener. And Lawless also provides another memorable squirt after begging Fabio Stallone to "Fuck me harder! Deeper please!" Good shit, indeed!
Synopsis:
No matter where they are, these horny, chiseled hunks are ready for a pile driving suck and fuck session. From the locker room to the bedroom, these horned up muscular hunks hook up, get naked, and get their nut!