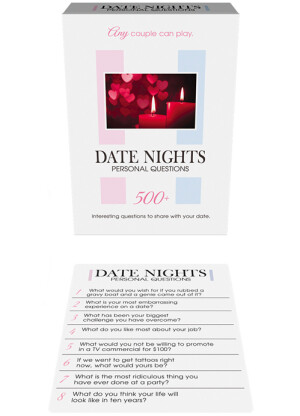 This card game is a great way to get some information from your date. There are eight questions on each card, and the range of questions is impressive. Some are personal, some are funny, and some make you go into deep thought, which is excellent and makes for an exciting date. I mean, with 69 cards and 552 questions, you can learn a lot; any couple can play — new, old or in the middle. This is a great couple game from Khepher games; these questions are enjoyable. Once you get a few drinks into your system, the answers to these questions may surprise some people, maybe even yourself. Who knows, all I'm saying is give it a try; you won't regret it.
Manufacturer Description:
You and your date take turns rolling the die and asking each other personal questions from the game cards. If someone is uncomfortable answering a question, it is perfectly fine for a second question to be asked. The fun and intrigue of the questions allows you to have more interesting dates and to get to know the other person better. 500+ interesting questions to share with your date. All questions are gender neutral so ANY couple can play

Copyright © 2023 Adnet Media. All Rights Reserved. XBIZ is a trademark of Adnet Media.
Reproduction in whole or in part in any form or medium without express written permission is prohibited.