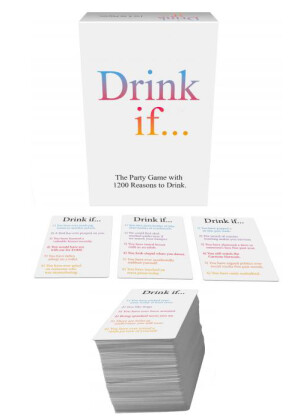 Drinking games are always a fun, good time. Especially in these times, drinking games are a great way to liven up a regular night in. This game gives you endless reasons to drink; it is just that simple. Pick up a card, roll the dice and read off the statement that corresponds to whatever you rolled. If that statement pertains to you, you drink! There are 1,200 ways this game can make you drink. Everything from "did you have an orgasm today" to "lighting matches excites me." You will feel that buzz in no time.
Manufacturer Description:
The easiest and most fun drinking game out there! Roll the die, read the "Drink If" statement and whoever would say yes, does so by taking a drink. Never run out of wild things to drink to, with 1200 possible reasons to celebrate. Examples of how you may drink are "If banjo music makes you think of incest" or "If you have ever taken a call while on a public toilet."

Copyright © 2023 Adnet Media. All Rights Reserved. XBIZ is a trademark of Adnet Media.
Reproduction in whole or in part in any form or medium without express written permission is prohibited.