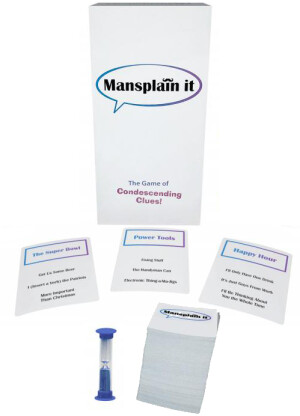 Okay, there's this game. Let me tell you about it. First, open the box. Not that way, this way. Then, when you have the cards — wait, be careful when you handle them – you have to mansplain what the magic word is and everyone needs to guess what it is based on your clues. Do you understand what I mean? Didn't think you did. Okay, it goes like this. If you need clues how to do it, you need to ask directions. Oh yeah. Directions. You know I can't follow them so I guess I have to mansplain it to you again. Now pay attention… this game is fun and will drive you crazy!
Manufacturer Description:
The hilarious party game where you must "Mansplain" before your team can guess each answer. Each card has three mansplaining clues on them. After you give the clues on the card, then you can offer other clues and you try to score as many points as you can in one minute.

Copyright © 2023 Adnet Media. All Rights Reserved. XBIZ is a trademark of Adnet Media.
Reproduction in whole or in part in any form or medium without express written permission is prohibited.