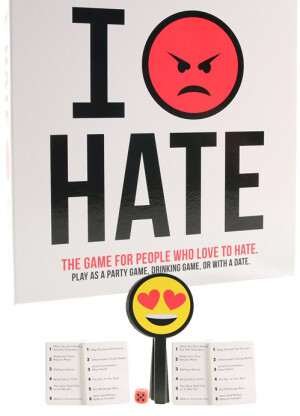 Do you love to hate things? Is being negative your jam? Curious to find out what your friends or partners hate and what you can hate together? Well then bust out this new game, I Hate and let the bonding over hating things begin. It is fantastic as a party game, drinking game or a fun date night game. Earn points or take shots, so many ways to play. Roll the dice and take turns reading off the cards the scenarios you hate. It never felt so good to hate stuff!
Manufacturer Description:
The game for people who love to hate. There are three ways to play I HATE. As a Party Game, other players get points when guessing correctly if you hate or love something. As a Drinking Game, drink when you hate something. As a Relationship Game, two players earn a point each time they both love or hate the same thing. Hours of hilarious entertainment! For 2 – 12 Players. Includes: 1200 things to hate (200 cards), 12 I Love-I Hate Sticks, a die, and game rules.
Copyright © 2023 Adnet Media. All Rights Reserved. XBIZ is a trademark of Adnet Media.
Reproduction in whole or in part in any form or medium without express written permission is prohibited.