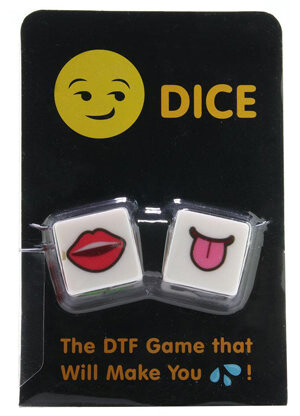 In today's world, emojis are just as effective a means of communication as actual words so why not bring that streamlined communication efficiency into the bedroom? This new dice kit takes your favorite naughty emojis and turns them into a fun sex game. One dice contain all the actions and the other represents corresponding body parts to do them to. Grab a buddy and get to tossin' for a good time that may just lead to some frisky fun. Just don't mix these up with normal game dice or that round of monopoly might go a little differently than planned.
Manufacturer Description:
This oversized set features 12 particular sexual innuendo in emoji form - 6 on each side of 2 dice. Don't worry if you're not so emoji-savvy, there'a a legend on the back!

Copyright © 2023 Adnet Media. All Rights Reserved. XBIZ is a trademark of Adnet Media.
Reproduction in whole or in part in any form or medium without express written permission is prohibited.